Kennesaw Mountain Google Earth Map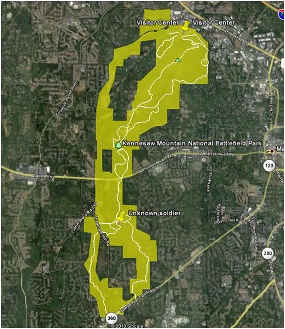 Kennesaw Mountain National Battlefield Park now has a Google Earth map that can be downloaded and viewed using the Google Earth program.



The map allows you to view an abundant amount of information about Kennesaw Mountain and its history.



You can view not just the hiking trails, streams, and horse trails but also loads of information about the Civil War battle itself including where individual conflicts took place, Confederate and Federal unit positions, and the positions of artillery and fortifications used during the battle.



To view the map you will need to download and install the Google Earth program which can be found by clicking the link below.
Download Google Earth



To download the Kennesaw Mountain Google Earth map click on the link below and click "Save" when prompted.



Download the Kennesaw Mountain Google Earth Map
Did You Know?

That National Park Law Enforcement Officers at Kennesaw Mountain can enforce both state and federal regulations. If caught violating a traffic offense on any road within or traveling through the park, a fine bears the same weight as if a county officer made the stop.