Road to Exit Glacier Closed for the Winter

The Herman Leirer Road (also known as the road to Exit Glacier) is closed to all vehicle traffic for the 2014-2015 winter season. Please see "Current Conditions" for the latest updates. More »
Sled Dog Tours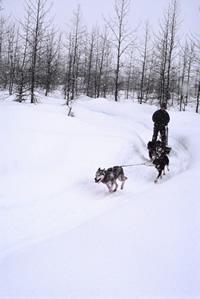 © Jim Pfeiffenberger
These companies are authorized to provide winter tours by traditional dog sled throughout the park.
Ididaride Sled Dog Tours, Inc.
P.O. Box 2906 Seward AK 99664
phone: (907) 224-8607
fax: (907) 224-8608
email: ididaride@wildbear.net
internet: www.ididaride.com


Did You Know?

Even though the road to Exit Glacier in Kenai Fjords National Park is closed to cars during the winter months, you can visit Exit Glacier in winter by skis, dogsled, snowshoes, or snowmobiles. More...