Photography
These companies offer trips specifically designed for photographers of all levels, with schedules and itineraries that maximize the photographic potential of the area.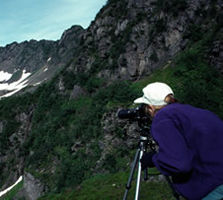 © Jim Pfeiffenberger
Backcountry Safaris
P.O. Box 231121 Anchorage AK 99523
phone:(907) 529-1935
fax:(907) 339-7230
email: ron@backcountrysafaris.com
internet: www.backcountrysafaris.com
Deep Creek Fishing Club
P.O. Box 39410 Ninilchik AK 99639
phone:(907) 567-7373
fax: (907) 567-7320
email: captaincrusty@aol.com
internet: www.alaskafishinglodge.com
Kayak Adventure Worldwide LLC
P.O. Box 2249 Seward AK 99664
phone: (907) 224-3960
fax: (907) 224-2255
email: fun@kayak.com
internet: www.kayakak.com


Did You Know?

There are 3 distinct types of Orca whale that roam the waters around Kenai Fjords National Park: residents that eat fish, transients that eat marine mammals, and less frequently viewed offshore orcas that stay in open water eating fish - including sharks.