Photography
These companies offer trips specifically designed for photographers of all levels, with schedules and itineraries that maximize the photographic potential of the area.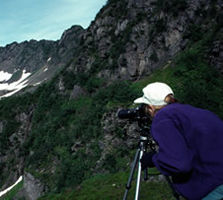 © Jim Pfeiffenberger
Backcountry Safaris
P.O. Box 231121 Anchorage AK 99523
phone:(907) 529-1935
fax:(907) 339-7230
email: ron@backcountrysafaris.com
internet: www.backcountrysafaris.com
Deep Creek Fishing Club
P.O. Box 39410 Ninilchik AK 99639
phone:(907) 567-7373
fax: (907) 567-7320
email: captaincrusty@aol.com
internet: www.alaskafishinglodge.com
Kayak Adventure Worldwide LLC
P.O. Box 2249 Seward AK 99664
phone: (907) 224-3960
fax: (907) 224-2255
email: fun@kayak.com
internet: www.kayakak.com


Did You Know?

Even though the road to Exit Glacier in Kenai Fjords National Park is closed to cars during the winter months, you can visit Exit Glacier in winter by skis, dogsled, snowshoes, or snowmobiles. More...