Lodging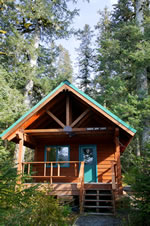 © Ron Niebrugge—www.wildnatureimages.com
Two rustic public use cabins, Aialik and Holgate, are available on the Kenai Fjords coast during the summer months (generally from Memorial Day weekend through Labor Day weekend). The North Arm Cabin in Nuka Bay has been transferred to the Port Graham Corporation.
Willow cabin at Exit Glacier, is available once Exit Glacier road is snow covered in late fall through approximately early April.
Kenai Fjords Glacier Lodge, Alaska's newest eco lodge, opened in 2009 on Native-owned land in Aialik Bay. It is the only lodge on the Kenai Fjords coast and is accessible by boat during the summer months.
A full range of hotels, bed and breakfasts and hostels are available year-round in Seward and the surrounding area. Visit the Seward Chamber of Commerce for more information.


Did You Know?

With 570,374 square miles, Alaska is twice the size of Texas and 1/5 the size of the rest of the United States. It stretches 2,400 miles east-to-west and 1,420 miles north-to-south. Its 6,640-mile coastline is 50 percent longer than the combined east and west coasts of the United States.