Kayaking and Boating safety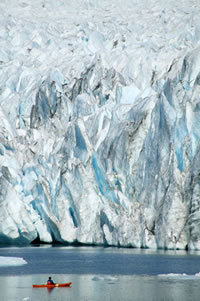 ©Ron Niebrugge--www.wildnatureimages.com
Waves from calving glaciers or large icebergs can upset your kayak or skiff. Stay at least 1/2 mile away from tidewater glaciers. Even at that distance, falling ice can cause large waves. Stay in deep water where waves pass under you rather than breaking.
Remember - most of an iceberg is hidden below the waterline. Do not approach them too closely as they regularly shift and roll.
Make sure you're proficient at self rescue techniques and carry a survival kit including extra warm layers, food, water, and emergency fire starter to help prevent hypothermia.
Carry a marine radio - cell phone coverage is not available in much of the park. In case of emergency Rangers and/or the Coast Guard can be reached on Marine Channel 16.
Tides can affect the navigability of certain waters. The difference between high and low tides in Kenai Fjords can be as much as 15 feet. Pick up a tide book before heading out. When making camp, be sure to store your gear well above the high tide line and tie off your boat.
NPS Photo
Avoid landing on beaches within two miles of a tidewater glacier. Sudden waves from calving ice can slam the shore with surprising power, sweeping away kayaks and gear stored well above the apparent high tide line.
When choosing a landing/camping site, use clues such as driftwood accumulation, beach steepness and cobble size to judge what the wave action is likely to be in storm conditions. Make sure you will be able to launch from the beach in the morning if the wind or weather changes overnight.
Be prepared to wait out storms for several days. Better to get home late than to risk paddling through potentially deadly seas. When in doubt, stay on the beach.
Use caution when entering Northwestern Lagoon, James Lagoon or McCarty Lagoon. Tidal currents can create standing waves, boils and confusing eddies. It is best to enter these lagoons at high, slack tide.
Pedersen Lagoon should only be entered at high slack tide. Approach the mouth of the lagoon from the east, not the south, as there is a submerged bar that causes breaking waves immediately south of the entrance. Be sure to sit well offshore and analyze conditions thoroughly before entering.
Excerpted and adapted from "The Complete Guide to Kenai Fjords" copyright Greatland Graphics www.alaskacalendars.com


Did You Know?

With 570,374 square miles, Alaska is twice the size of Texas and 1/5 the size of the rest of the United States. It stretches 2,400 miles east-to-west and 1,420 miles north-to-south. Its 6,640-mile coastline is 50 percent longer than the combined east and west coasts of the United States.