Kayak Touring
These companies provide experienced guides and all the necessary equipment for your kayak adventure, whether you are looking for an afternoon paddle or a multi-week trip.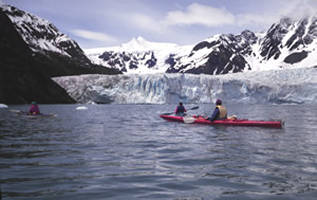 © Peter Fitzmaurice
Adventure Sixty North
P.O. Box 2487 Seward AK 99664
phone (907) 224-2600
email: adventure60north@gmail.com
internet: www.adventure60.com
Alaska Alpine Adventures, LLC
300 E. 76th Ave, Anchorage, AK 99518
phone: (877) 525-2577
fax:(866) 793-2679
email: info@alaskaalpineadventures.com
internet: www.alaskaalpineadventures.com

Alaska Fjord Charters
P.O. Box 1412 Kenai AK 99611
phone (907) 283-4199
email: seepv@att.net
Backcountry Safaris
P.O. Box 231121 Anchorage AK 99523
phone:(907) 529-1935
fax:(907) 339-7230
email: ron@backcountrysafaris.com
internet:www.backcountrysafaris.com
Get Up and Go! Tours, LLC
4215 Spenard Road Anchorage AK 99517
phone: (907) 245-0795
fax: (907) 245-0795
email: geoff@getupandgotours.com
internet: www.getupandgotours.com
Kayak Adventure Worldwide LLC
P.O. Box 2249 Seward AK 99664
phone: (907) 224-3960
fax: (907) 224-2255
email: fun@kayak.com
internet:www.kayakak.com
Liquid Adventures
P.O. Box 3713 Seward AK 99664
phone:(888) 325-2925
email: info@liquid-adventures.com
internet: www.liquid-adventures.com
Miller's Landing
P.O. Box 81 Seward AK 99664
phone: (907) 224-5739 or toll free 1-866-541-5739
fax: (907) 224-9197
email: millerslanding@alaska.com
internet: www.millerslandingak.com
Nichols Expeditions, Inc.
497 North Main Street Moab UT 84532
phone:(435) 259-3999
fax:(435) 259-2312
email: info@nicholsexpeditions.com
internet: www.nicholsexpeditions.com
Sunny Cove Sea Kayaking Co.
P.O. Box 3332 Seward AK 99664
phone:(907) 224-8810
fax:(907) 224-8811
email: kayakak@alaska.net
internet: www.sunnycove.com


Did You Know?

River otters defecate in certain spots to mark their territory. Researchers in Kenai Fjords National Park have discovered that these "latrine sites" enrich the soil, allowing plants to grow in those spots that aren't found anywhere else close by.