Hiking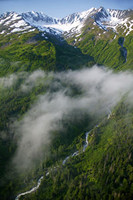 © Ron Niebrugge—www.wildnatureimages.com
The only maintained trails in Kenai Fjords National Park are those in the Exit Glacier area. These include several short trails on the valley floor and the Harding Icefield Trail.
Most of the backcountry is trail-less wilderness. Off-trail hiking is not recommended. The terrain is steep and rugged, and often requires scrambling through dense vegetation.
Other hiking trails near Kenai Fjords National Park are located within:


Did You Know?

The Dall's porpoise may be the fastest small cetacean on the planet. It has been reported to reach speeds of 30 knots. These creatures delight in riding the bow waves of tour boats in Kenai Fjords.