Road to Exit Glacier Closed for the Winter

The Herman Leirer Road (also known as the road to Exit Glacier) is closed to all vehicle traffic for the 2014-2015 winter season. Please see "Current Conditions" for the latest updates. More »
Hiking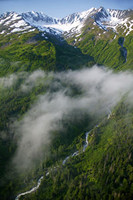 © Ron Niebrugge—www.wildnatureimages.com
The only maintained trails in Kenai Fjords National Park are those in the Exit Glacier area. These include several short trails on the valley floor and the Harding Icefield Trail.
Most of the backcountry is trail-less wilderness. Off-trail hiking is not recommended. The terrain is steep and rugged, and often requires scrambling through dense vegetation.
Other hiking trails near Kenai Fjords National Park are located within:


Did You Know?

The Hoary Marmot is the largest member of the ground squirrels. These guys hibernate half or more of their life away. They have very thick fur and a substantial fat layer that protects them from the cold. You are not as likely to see them on hot days as they hide in the shade to keep cool.