Hiking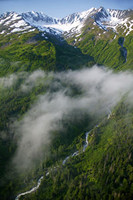 © Ron Niebrugge—www.wildnatureimages.com
The only maintained trails in Kenai Fjords National Park are those in the Exit Glacier area. These include several short trails on the valley floor and the Harding Icefield Trail.
Most of the backcountry is trail-less wilderness. Off-trail hiking is not recommended. The terrain is steep and rugged, and often requires scrambling through dense vegetation.
Other hiking trails near Kenai Fjords National Park are located within:


Did You Know?

With 570,374 square miles, Alaska is twice the size of Texas and 1/5 the size of the rest of the United States. It stretches 2,400 miles east-to-west and 1,420 miles north-to-south. Its 6,640-mile coastline is 50 percent longer than the combined east and west coasts of the United States.