Hiking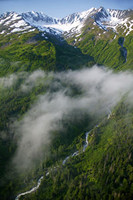 © Ron Niebrugge—www.wildnatureimages.com
The only maintained trails in Kenai Fjords National Park are those in the Exit Glacier area. These include several short trails on the valley floor and the Harding Icefield Trail.
Most of the backcountry is trail-less wilderness. Off-trail hiking is not recommended. The terrain is steep and rugged, and often requires scrambling through dense vegetation.
Other hiking trails near Kenai Fjords National Park are located within:


Did You Know?

There are 3 distinct types of Orca whale that roam the waters around Kenai Fjords National Park: residents that eat fish, transients that eat marine mammals, and less frequently viewed offshore orcas that stay in open water eating fish - including sharks.