Road to Exit Glacier Closed for the Winter

The Herman Leirer Road (also known as the road to Exit Glacier) is closed to all vehicle traffic for the 2014-2015 winter season. Please see "Current Conditions" for the latest updates. More »
Falling Ice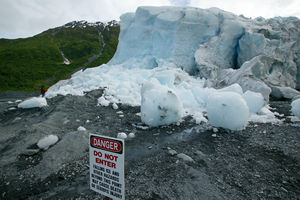 © Ron Niebrugge—www.wildnatureimages.com
Falling ice from glaciers can kill! Stay away from steep walls of ice, overhangs, or areas with visible cracks and or pieces of broken ice lying on the ground. Never enter an ice cave!
By definition, a glacier is 'ice on the move.' Forward momentum causes ice to crack and rock-hard chunks ranging from softball to Volkswagen size break off without warning. Seeing an active glacier up close is an unforgettable experience, but it is extremely dangerous to be in the wrong place at the wrong time.
If you must approach the edge of a glacier, pick a place where the ice slopes gently to the ground. Obey all warning signs, but also keep an eye out for dangers that may not be signed. Since the glacier's movement can cause rapid changes, rangers may not have had a chance to post new warning signs. Do not attempt to climb on the ice unless you have technical climbing skills and proper equipment. It is more dangerous than it looks!
Avoid landing on beaches within two miles of a tidewater glacier. Sudden waves from calving ice can slam the shore with surprising power, sweeping away kayaks and gear stored well above the apparent high tide line.
When choosing a landing/camping site, use clues such as driftwood accumulation, beach steepness and cobble size to judge what the wave action is likely to be in storm conditions. Make sure you will be able to launch from the beach in the morning if the wind or weather changes overnight.


Did You Know?

The Hoary Marmot is the largest member of the ground squirrels. These guys hibernate half or more of their life away. They have very thick fur and a substantial fat layer that protects them from the cold. You are not as likely to see them on hot days as they hide in the shade to keep cool.