Exit Glacier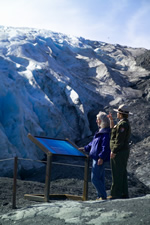 NPS Photo
Exit Glacier is the only part of the park accessible by road. Here you can stroll the trails, walk very close to an active glacier, or take a ranger-led walk. It is a place where you can witness up close how glaciers re-shape a landscape and learn how plant life reclaims the barren rocky land exposed by a glacier's retreat.
Directions:
To get there, turn onto the Herman Leirer/Exit Glacier Road at mile 3 of the Seward Highway. The 8.6 mile road to the Exit Glacier Area is paved, making it easily accessible to all types of vehicles. Taxi/shuttle service is available from Seward in the summer. In the winter, snowcoach service is available.
Seasons:
Exit Glacier is open year-round. Upon the arrival of snow, usually in mid-November, the road is closed to cars but open to a wide-range of winter recreation - from snowmachines to dogsleds and cross-country skiers. The road often remains closed through early May so be sure to check current conditions if you are visiting during the shoulder seasons (spring or fall).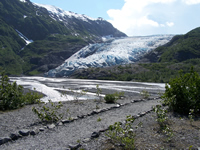 NPS Photo
Trails:
From the Nature Center a network of short trails leads to different views of Exit Glacier. Start by turning left at the Nature Center and following the accessible trail through the cottonwood forest to Glacier View, a panoramic vista of Exit Glacier spilling down from the Harding Icefield. This one-mile accessible trail loops back to the parking area, but if you turn left at the trailside kiosk you can continue on toward the Toe of the Glacier and Edge of the Glacier.
Getting to the Toe of the Glacier requires crossing the rocky outwash plain. This area may be not be accessible due to frequent floods and there is no set trail across the outwash plain. If water levels are low, you can make your way to Exit Glacier's terminus, but don't approach the glacier in places where the ice is over your head - huge, heavy chunks of ice fall off without warning.
There is a well maintained trail to the Edge of the Glacier. This moderately strenuous trail brings you near a wall of blue ice providing the most dramatic close up view of Exit Glacier.
If you are looking for a longer day hike, don't miss the Harding Icefield Trail. A map of all the trails in the Exit Glacier area is posted near the Nature Center.
Visitor Facilities:
The Exit Glacier Nature Center includes hands-on exhibits and an Alaska Geographic bookstore. Flush toilets, near the Nature Center, are operable from Memorial Day through Labor Day. The rest of the year pit toilets are available. Exit Glacier has a 12-site, walk-in campground.
Did You Know?

Snowfall on the Harding Icefield can exceed 100 feet each year. After 4-10 years of compression snow turns into glacial ice.