Closures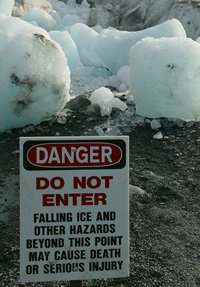 © Ron Niebrugge--www.wildnatureimages.com
The Superintendent may close an area of the park or restrict its use in order to prevent resource damage, facilitate scientific research, provide for public safety, or avoid user conflicts. Such closures or restrictions may be short or long term. Except in emergencies, significant closures will be published as rulemaking in the Federal Register.
Closures or restrictions listed here may not be all inclusive. Visitors should be aware of posted closure signs, fences or other barricades, notices on park bulletin boards, as well as notices in local newspapers. Any or all of these may be used to announce a closure.
Current Closures:
The road to Exit Glacier (Herman Leirer Road): The road is currently closed to all private vehicles, from Mile 1.3 to the Exit Glacier Nature Center parking lot. This closure does not apply to snow machines, dog sleds, atv's pulled by dog sleds, and other snow-related transportation equipment.

Road closure is due to normal winter weather (heavy snow and ice). Road is predicted to reopen for normal travel in mid-May to early-June, weather permitting.

Please see Roads & Trail Conditions for more information.
Did You Know?

The Hoary Marmot is the largest member of the ground squirrels.  These guys hibernate half or more of their life away.  They have very thick fur and a substantial fat layer that protects them from the cold.  You are not as likely to see them on hot days as they hide in the shade to keep cool.