Closures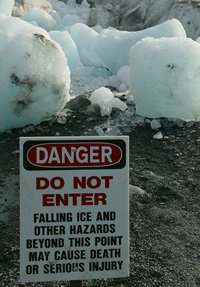 © Ron Niebrugge--www.wildnatureimages.com
The Superintendent may close an area of the park or restrict its use in order to prevent resource damage, facilitate scientific research, provide for public safety, or avoid user conflicts. Such closures or restrictions may be short or long term. Except in emergencies, significant closures will be published as rulemaking in the Federal Register.
Closures or restrictions listed here may not be all inclusive. Visitors should be aware of posted closure signs, fences or other barricades, notices on park bulletin boards, as well as notices in local newspapers. Any or all of these may be used to announce a closure.
Did You Know?

The Dall's porpoise may be the fastest small cetacean on the planet. It has been reported to reach speeds of 30 knots. These creatures delight in riding the bow waves of tour boats in Kenai Fjords.