Road to Exit Glacier Closed for the Winter

The Herman Leirer Road (also known as the road to Exit Glacier) is closed to all vehicle traffic for the 2014-2015 winter season. Please see "Current Conditions" for the latest updates. More »
Backpacking
Guided backpacking trips typically explore the area around Exit Glacier or the inland areas surrounding the fjords. Guides provide equipment, food, and knowledge of the area.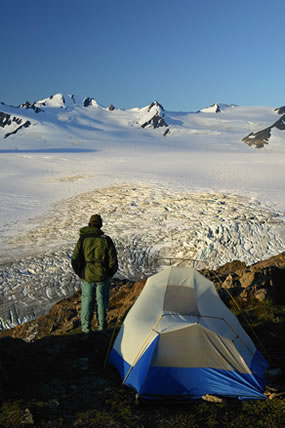 © Ron Niebrugge--www.wildnatureimages.com
Adventure Sixty North
P.O. Box 2487 Seward AK 99664
phone: (907) 224-2600
email: adventure60north@gmail.com
internet: www.adventure60.com
Alaska Alpine Adventures, LLC
300 E. 76th Ave, Anchorage, AK 99518
phone: (877) 525-2577
fax:(866) 793-2679
email: info@alaskaalpineadventures.com
internet: www.alaskaalpineadventures.com

Backcountry Safaris
P.O. Box 231121 Anchorage AK 99523
phone:(907) 529-1935
fax:(907) 339-7230
email: ron@backcountrysafaris.com
internet:www.backcountrysafaris.com
Get Up and Go! Tours, LLC
4215 Spenard Road Anchorage AK 99517
phone: (907) 245-0795
fax: (907) 245-0795
email:geoff@getupandgotours.com
internet: www.getupandgotours.com
Kayak Adventure Worldwide LLC
P.O. Box 2249 Seward AK 99664
phone: (907) 224-3960
fax: (907) 224-2255
email: fun@kayak.com
internet:www.kayakak.com
Miller's Landing
P.O. Box 81 Seward AK 99664
phone: (907) 224-5739 or toll free 1-866-541-5739
fax: (907) 224-9197
email: millerslanding@alaska.com
internet: www.millerslandingak.com
Sunny Cove Sea Kayaking Co.
P.O. Box 3332 Seward AK 99664
phone:(907) 224-8810
fax:(907) 224-8811
email: kayak@alaska.net
internet: www.sunnycove.com


Did You Know?

There are 3 distinct types of Orca whale that roam the waters around Kenai Fjords National Park: residents that eat fish, transients that eat marine mammals, and less frequently viewed offshore orcas that stay in open water eating fish - including sharks.