Backcountry Safety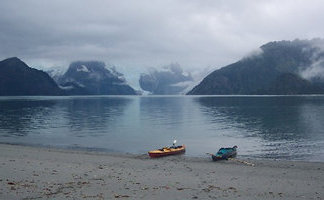 NPS Photo
In the backcountry, being prepared can make the difference between the adventure of a lifetime and a cold, wet, miserable experience you may not survive.
Have a trip plan. Always let a responsible person know where you are going and when you expect to return. Let them know how long overdue you can be before they should start to worry.
Prepare for the unexpected. Ocean storms can sweep through the Kenai Fjords any time of year. Good rain gear and extra food supplies are a must since weather may delay a charter pick-up for days. A properly prepared party can usually wait out bad weather and thus may be a few days overdue with no cause for alarm. Travel with a marine radio to stay informed of upcoming conditions. Don't make your schedule too tight; allow extra time for delays and always have a backup plan. Better to get home late than to risk paddling through potentially deadly seas. When in doubt, stay on the beach.


Did You Know?

Even though the road to Exit Glacier in Kenai Fjords National Park is closed to cars during the winter months, you can visit Exit Glacier in winter by skis, dogsled, snowshoes, or snowmobiles. More...