Rainy, cool weather is common in this temperate rain forest and snow often stays on the ground at Exit Glacier through May. Field-trips take place outside and last approximately 2-3 hours. In order for students to get the most out of their day at Kenai Fjords, make sure they're properly dressed. Being cold and wet is not conducive to learning! Each student should bring: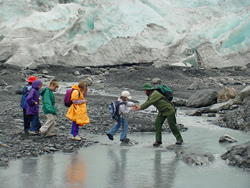 NPS Photo
Hat and mittens or gloves
Sturdy warm walking shoes or boots
Extra socks
Warm layers - fleece or wool is preferable to cotton.
Rain jacket
Water bottle
Day pack
Note: For Lowell Point Trips a pair of rubber boots and a change of socks are strongly recommended along with everything listed above.