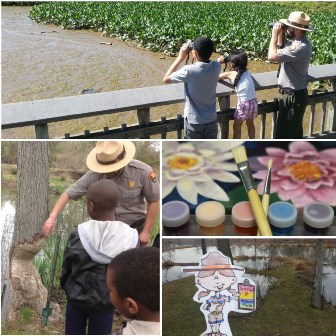 M. Marquez
Junior Ranger Program
Get your Junior Ranger booklet at the visitor center and explore the park through cross word puzzles, picture games, scavenger hunts and more while learning about aquatic habitats and the National Park. Complete and turn in to the Ranger at the visitor center for your Junior Ranger award!
---
Garden Tours
The ponds are home to beautiful water lilies and sacred lotuses. Join a park ranger and take a stroll through a floral paradise.
Tours are held DAILY at 2:00 p.m. Meet at the Visitor Center.

---
Bird Walk
Bird walk with a Park Ranger. With an amazing total of 231 species of birds, the Aquatic Gardens is a great place for bird watching. Along the ponds, in the marsh off the boardwalk, or through the wooded river trail, how many birds will you see? Binoculars and field guides are provided.
Meet at the Visitor Center, program starts at 8:00 a.m.
April 4th, 2015
April 19, 2015
May 10th, 2015.
May 17, 2015
May 24th, 2015
May 31st, 2015.
---
Come out to one of the last remaining types of habitat here in DC and learn more about the Anacostia River and why it should be protected! Program will include a presentation on the importance of the Anacostia River ecosystem and a brief outdoor activity. Dates and times listed below.
Meet in the front of the visitor center.
January 3rd, 2015 at 11:00 a.m.
January 17th, 2015 at 11:00 a.m.
February 7th, 2015 at 11:00 a.m.
February 21st, 2015 at 11:00 a.m.
March 7th, 2015 at 11:00 a.m.
March 21st,
2015 at
11:00 a.m.

---
Art in the Park

With so many beautiful images and colors the aquatic gardens display it seems as if the landscape is a painting in a museum! Come see for yourself and let nature inspire your inner artist and create your own masterpiece. Join a Park Ranger and walk the gardens to learn and see some of the parks history and paintings from the past. Then create your own artwork and masterpieces through your eyes.

Paint, water colors, paper, color pencils, and brushes are All included. ALL Ages welcome!

Meet at the Visitor Center, program starts at

12:00 p.m. April 5th, 2015. May 10th, 2015. May 24th, 2015. June 7th, 2015.

For more information click

Here
---
Creature Feature
If you are a park goer that wants a guaranteed chance to see some of Kenilworth's wildlife up close, then Creature Feature is the right program for you. Visitors will have a chance to join a park ranger for a guided program which will both explain the park's animals as well as give you an opportunity to interact with them. Program is geared for visitors of all age ranges and groups.
Program is held EVERY Saturday from 11:00 a.m. to 12:00 p.m. starting March 28th, 2015.