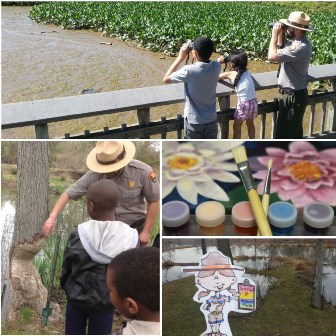 M. Marquez
Junior Ranger Program
Get your Junior Ranger booklet at the visitor center and explore the park through cross word puzzles, picture games, scavenger hunts and more while learning about aquatic habitats and the National Park. Complete and turn in to the Ranger at the visitor center for your Junior Ranger award!
---
Nature Walk
Come enjoy the seasons and explore the park with a Ranger in search of a host of sights and sounds.
Nature Walks are held DAILY at 2:00 p.m. Meet at the Visitor Center.

---
Bird Walk
Bird walk with a Park Ranger. With an amazing total of 231 species of birds, the Aquatic Gardens is a great place for bird watching. Join a Park Ranger as we explore the gardens and marsh to find and identify some amazing birds. How many birds will you see? Binoculars and field guides are provided.
Meet at the Visitor Center.
When: Jan 31st and Feb 21st
Time: 8:00 a.m. to 10:00 a.m.
---
Art in the Park

With so many beautiful images and colors the aquatic gardens seem as if the landscape is a painting in a museum! Come see for yourself and let nature inspire your inner artist and create your own masterpiece. Join a Park Ranger and walk the gardens to learn and see some of the parks history and paintings from the past. Then create your own artwork and masterpieces through your eyes.

Paint, water colors, paper, color pencils, and brushes are All included. ALL Ages welcome!

Meet at the Visitor Center.

Every Sunday at 12:00 p.m.

For more information click

Here
---
Reading with a Ranger
Join a Ranger for a fun educational story time and craft activity. Program will include the reading of a short colorful book and conclude with an arts and crafts activity based on the story.
From 11:00 a.m. to 12:00 pm.
When: Jan 9th and 23rd
Feb 6th and 20th.
Mar 5th and 19th.
Ages 4 to 7.