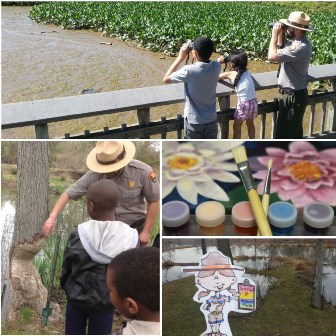 M. Marquez
Junior Ranger Program
Get your Junior Ranger booklet at the visitor center and explore the park through cross word puzzles, picture games, scavenger hunts and more while learning about aquatic habitats and the National Park. Complete and turn in to the Ranger at the visitor center for your Junior Ranger award!
---
Moths by Moonlight
Join us for Moth Week and an exploration into the world of moths in the Capitol region. Dr. Adamski, a moth expert from the Smithsonian's Natural History Museum, will give a presentation on the natural history of moths. Together we will learn about the morphology and biology of these elusive nocturnal creatures. Dr. Adamski will then lead a moth collection event in the park to identify local species found at Kenilworth Aquatic Gardens and demonstrate collection techniques used by researchers in the field.
Meet outside the Kenilworth Aquatic Gardens Visitor Center on Sunday,
July 26th at 7:30 pm.
Flashlights recommended for walking around the park. There is no fee; all ages welcome.
---
Garden Walks
The ponds are home to beautiful water lilies and sacred lotuses. Join a park ranger and take a stroll through a floral paradise.
Garden Walks are held DAILY at 10:00 a.m. Meet at the Visitor Center.

---
Bird Walk
Bird walk with a Park Ranger. With an amazing total of 231 species of birds, the Aquatic Gardens is a great place for bird watching. Join a Park Ranger as we explore the gardens and marsh to find and identify some amazing birds. How many birds will you see? Binoculars and field guides are provided.
Meet at the Visitor Center, program starts at 8:00 a.m.
September 6, 2015
September 20, 2015
---
Art in the Park

With so many beautiful images and colors the aquatic gardens display it seems as if the landscape is a painting in a museum! Come see for yourself and let nature inspire your inner artist and create your own masterpiece. Join a Park Ranger and walk the gardens to learn and see some of the parks history and paintings from the past. Then create your own artwork and masterpieces through your eyes.

Paint, water colors, paper, color pencils, and brushes are All included. ALL Ages welcome!

Meet at the Visitor Center, program starts at

12:00 p.m. July 26, 2015 August 9, 2015 August 23, 2015 August 30, 2015

For more information click

Here
---
Creature Feature
If you are a park goer that wants a guaranteed chance to see some of Kenilworth's wildlife up close, then Creature Feature is the right program for you. Visitors will have a chance to join a park ranger for a guided program which will both explain the park's animals as well as give you an opportunity to interact with them. Program is geared for visitors of all age ranges and groups.
Program is held EVERY Saturday from 11:00 a.m. to 12:00 p.m.
Reading with a Ranger
Join a Ranger for a fun educational story time and craft activity. Program will include the reading of a short colorful book and conclude with an arts and crafts activity based on the story.
August 1, 8, 15 and 22 from 2:00 pm to 3:00 pm. Ages 4 to 7.
Helen Fowler
Join a Park Ranger as we learn about Helen Fowler, who traveled the world and introduced many exotic varieties of tropical water lilies to Shaw Gardens, later to become Kenilworth Aquatic Gardens.
August 2, 2015.
August 16. 2015.
September 27, 2015.