Lotus & Water Lily Cultural Festival 2014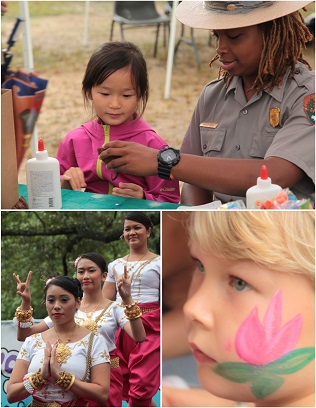 NPS Photo: M. Marquez
July 19th, 2014.
10:00 a.m. - 4:00 p.m.
We welcome you to another anticipated annual Lotus and Water Lily Festival! Come experience your National Park with FREE activities for the whole family.
See a spectacular display of lotus and water lilies in full bloom!
Enjoy gardening workshops & traditional Asian & African dancing performances!
Hands-on activities including face painting, lotus tea tasting, and painting demonstrations!
Visit educational and cultural exhibitors and much more!..
Lily Stage:
10:00 a.m. Reptiles Alive! Live program.
11:00 a.m. Raptor Program by the Raptor Society of Virginia.
12:00 p.m. The Changing Face of Africa.
12:30 p.m. Africa Cooking Demonstration.
1:15 p.m. Ethnic Crops of Africa by University of D.C.
2:00 p.m. "Lets Move Outside".
2:30 p.m: Cooking with Lotus by Modern Buddhism.
Lotus Stage:
10:30 a.m. Buddhist Sutra Chanting.
10:45 a.m. African Drum Demonstration.
11:10 a.m. African Procession-Southern African Dance.
11:30 a.m. African Poetry.
11:40 a.m. Lesole South Africa Dance.
12:00 p.m. Asian Cultural Dance Performances.
1:00 p.m. Mahala - South African Jazz Performances.
1:50 p.m. Announcement of Children's Art Contest.
2:00 p.m. African Culture and Fashion in the Garden.
3:15 p.m. Sahel - Contemporary African Music.
On-Going Activities.
Arts and Crafts.
Children's Art Contest.
South African King Protea Oragami.
Lotus Tea Demo & Tasting.
Free Face Painting.
Learn about lotus and lilies at the Nature Tent!
View and print the New 2014 Lotus & Water Lily Cultural Festival Flyer.
A few things to note.
To get real time weather and safety alerts to your cell phone during the festival text: LILYFEST to 888777
For lost people and stuff, check in at the First Aid tent.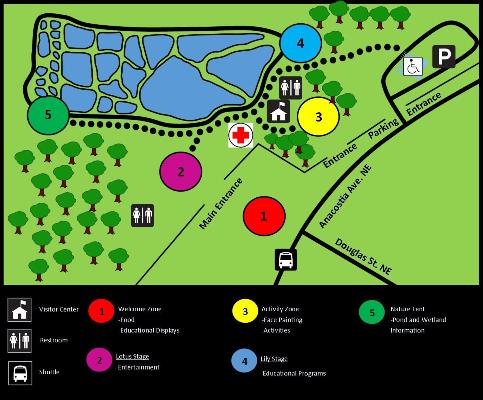 L. Showa
Event Map
You don't want to miss out. Follow the map and catch all the fun! View and download the Festival Map.
There will be a shuttle bus service to and from the festival! The bus will run along Anacostia Ave, pick up and drop off right at the festival!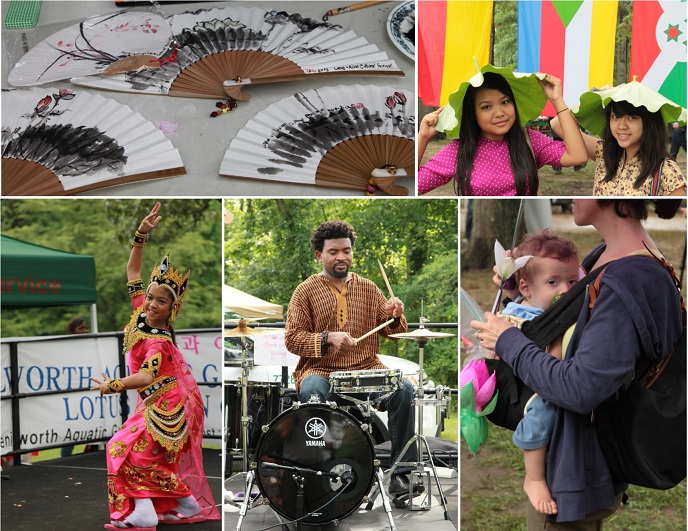 NPS Photo: M. Marquez
Click on Photo Galleries Below to view past years Festivals
Lotus & Water Lily Festival 2013

14 Photos

This years theme; "Beyond Borders: Showcasing Lotus & Water Lilies as Cultural Icons from Africa & Asia", the Festival did just that. The sights, sounds and colorful arts and crafts filled the park along with peak Lotus & Water Lily blooms.
Event Co-Sponsors
Friends of Kenilworth Aquatic Gardens
Modern Buddhism
Infinite Possibilities
Embassy of South Africa
Smithsonian Anacostia Museum
Southern African Community in the USA