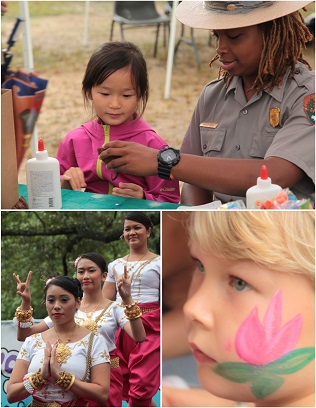 NPS Photo: M. Marquez
July 19th, 2014.
10:00 a.m. - 4:00 p.m.
We welcome you to another anticipated annual Lotus and Water Lily Festival! Come experience your National Park with FREE activities for the whole family.
See a spectacular display of lotus and water lilies in full bloom!
Enjoy gardening workshops & traditional Asian & African dancing performances!
Hands-on activities including face painting, lotus tea tasting, and painting demonstrations!
Visit educational and cultural exhibitors and much more!..
Lily Stage:
10:00 a.m. Reptiles Alive! Live program.
11:00 a.m. Raptor Program by the Raptor Society of Virginia.
12:00 p.m. The Changing Face of Africa.
12:30 p.m. Africa Cooking Demonstration.
1:15 p.m. Ethnic Crops of Africa by University of D.C.
2:00 p.m. "Lets Move Outside".
2:30 p.m: Cooking with Lotus by Modern Buddhism.
Lotus Stage:
10:30 a.m. Buddhist Sutra Chanting.
10:45 a.m. African Drum Demonstration.
11:10 a.m. African Procession-Southern African Dance.
11:30 a.m. African Poetry.
11:40 a.m. Lesole South Africa Dance.
12:00 p.m. Asian Cultural Dance Performances.
1:00 p.m. Mahala - South African Jazz Performances.
1:50 p.m. Announcement of Children's Art Contest.
2:00 p.m. African Culture and Fashion in the Garden.
3:15 p.m. Sahel - Contemporary African Music.
On-Going Activities.
Arts and Crafts.
Children's Art Contest.
South African King Protea Oragami.
Lotus Tea Demo & Tasting.
Free Face Painting.
Learn about lotus and lilies at the Nature Tent!
View and print the New 2014 Lotus & Water Lily Cultural Festival Flyer.
A few things to note.
To get real time weather and safety alerts to your cell phone during the festival text: LILYFEST to 888777
For lost people and stuff, check in at the First Aid tent.