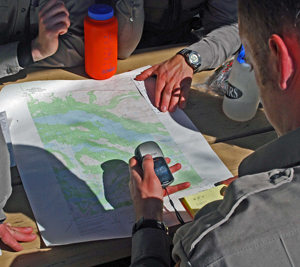 NPS/W. Artz
1. Appropriate Footwear
Consider where you are going and what terrain you will encounter. In the Valley of Ten Thousand Smokes the best footwear is a good set of hiking boots with multi-sport sandals for river crossings. If you are boating, then consider using lightweight fishing waders and hiking shoes for camp shoes.
2. Map and Compass/GPS
Route finding/navigating tools and a knowledge of how to use them are a necessity. Maps can be downloaded from the
USGS MapStore
or purchased from Katmai's cooperating association,
Alaska Geographic
.
3. Water and a Water Treatment System
Many places in Katmai's backcountry, like the Valley of Ten Thousand Smokes have limited water sources, especially in late summer. Other places offer easy access to lakes, streams, and springs. Stay healthy and treat your water by filtering it, using chemical tablets, or boiling it.
4. High Calorie Food
Bring and eat a lot of food. Snack on food throughout the day. You never know when you will need the energy for that final push back to your campsite.
5. Rain gear and Extra Clothing
Always plan for rain at Katmai. Staying dry is key to staying warm and comfortable. Rain gear makes for great wind protection too!