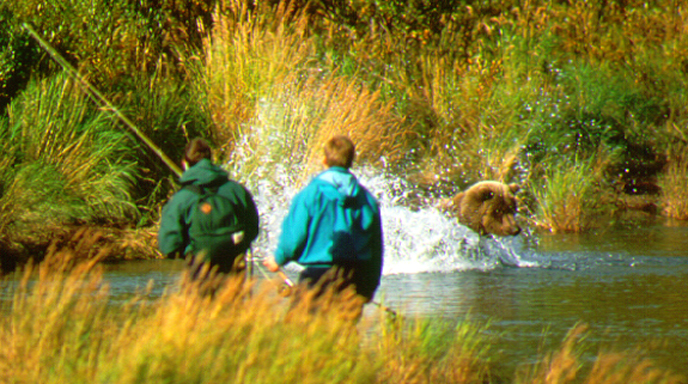 NPS
Katmai National Park offers tremendous fishing opportunities for rainbow trout, arctic char, and salmon. Its run of sockeye salmon, in particular, also support some of the highest densities of brown bears on earth. No matter when you visit, fishing in Katmai requires extra care and responsibility to protect people, wildlife, and the experience.
A splashing fish sounds like food to a bear. Bears will often move in your direction to investigate a fish on a line. Always be prepared to cut or break your line, so that you can free the fish and move out of the water until the bear passes. Never let a bear acquire a fish from you.
It is easy to become so engaged in fishing, that you forget to be alert for bears. They are surprisingly quiet and difficult to see in dense grass or tall brush, so always have someone spot bears for you.
At minimum, keep 50 yards between yourself and all bears. All fishing must cease when a bear is within 50 yards of you. No lures or flies can remain in the water. Stop fishing and move away well before a bear approaches within 50 yards. If bear is close and you hook a fish, you may lose your tackle as you break your line or find yourself in a situation with a fish on the line and a bear in pursuit.
More information about fishing in Katmai, including links to regulations, can be found
here
.