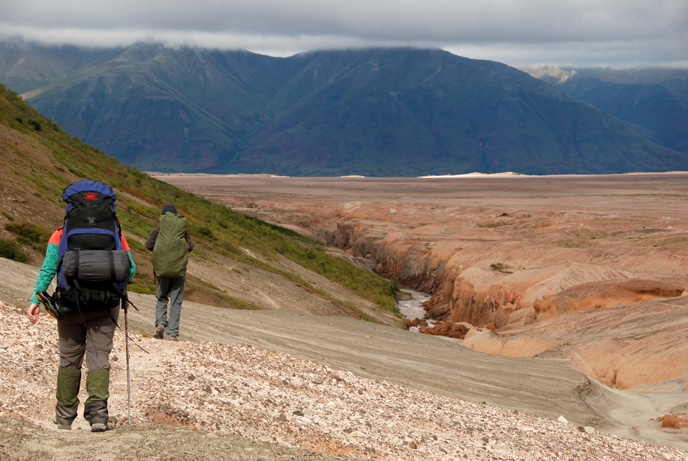 NPS/B. Plog
Visiting Katmai's Wilderness

Though wilderness by definition is a place where humans should not leave their mark and do not remain, this certainly does not mean that the wilderness in Katmai or other parks cannot be visited or enjoyed. The Wilderness Act also states that these lands are set aside to "be devoted to the public purposes of recreation, scenic, scientific, educational, conservation and historic use."
Even the parts of Katmai that are not wilderness—such as Brooks Camp, the road to the Valley of Ten Thousand Smokes, and much of Naknek Lake—allow visitors to experience a wilderness. The majority of the park is truly wilderness where few humans explore, even today. Exploring Katmai's wilderness can be a rewarding and challenging experience.
From Brooks Camp, day hikers can experience wilderness by heading up Dumpling Mountain for wonderful views of lakes and mountains from the wide-open tundra of the summit.
Many backpackers choose to challenge themselves amongst the extraordinary landscape of the Valley of Ten Thousand Smokes, a moonscape that is just now starting to show signs of life after the devastating eruption of Novarupta in 1912 covered parts of the valley in up to several hundred feet of pumice and ash.
Boats can be a popular way to experience Katmai's wilderness as well. The solitude of canoeing or kayaking along swift the Savonoski River or on the still waters of Lake Brooks or Lake Grosvenor allows visitors to meet wilderness on its terms and penetrate the park far away from any road, camp, or town.
Visiting Katmai's wilderness should not be taken lightly. Remote, and sometimes dangerous, a trip into the wilderness requires careful planning and preparation. Visitors should also follow Leave No Trace principles to minimize any impact on the landscape and ecosystem.
No special permits are required to stay in the wilderness of Katmai. Rangers at Brooks Camp or King Salmon can help plan your trip. Wilderness travelers are encouraged to fill out a backcountry trip planner in case of emergency. Visit Katmai's backcountry camping and hiking pages for more information.