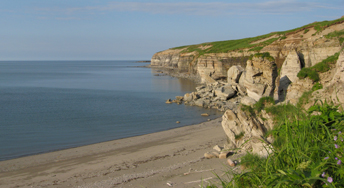 NPS
The Aleutian Range
This province is characterized by three landforms: the Shelikof Strait seacoast, the Aleutian Range, and the lake region centered around Naknek Lake.
The Shelikof Strait seacoast is a rugged, diversified area of bays, beaches, and intricate coves. On the coast, steep cliffs rise dramatically and rivers cascade down steep canyons onto ocean beaches.
The Aleutian Range is the backbone of the Alaska Peninsula. The higher peaks of this range within Katmai National Park are volcanoes that rise steeply from the Shelikof Strait coastline to elevations greater than 7,000 feet. The slopes and upper valleys surrounding these peaks contain glaciers on both sides of the Aleutian divide. Along the eastern coast of the park, a few of these glaciers descend almost to sea level. The largest glaciers in the park are 3 to 4 miles wide and 10 to 12 miles long. The only travel routes of low relief across this section of the Aleutian Range are at Kanatak Trail near Becharof Lake and Katmai and Kaguyak passes in Katmai.