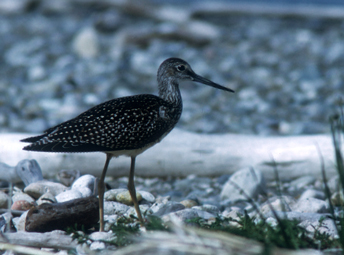 NPS
Extending west and southwest of Katmai is the open and wet tundra of the Bristol Bay lowlands. This area is littered with countless lakes, ponds, and wetlands, which serves as productive nesting sites for shorebirds like greater yellowlegs and Hudsonian godwits, and waterfowl like tundra swans and many species of ducks.
The interior of Katmai offers a diverse range of habitats including alpine tundra, forests, shrub thickets, lakes, rivers, and lowland marshes. In summer, passerine birds like thrushes, warblers, and sparrows are very abundant.
Salmon spawning streams attract ducks like mergansers and common goldeneyes as well as scavengers like ravens, black-billed magpies, glaucous-winged gulls, and eagles. Loons and grebes nest on marshy shorelines of lakes and ponds. The arctic tern, a 20,000-mile annual commuter, breeds on exposed lakeshore gravel bars.