Brooks Housing and Utilities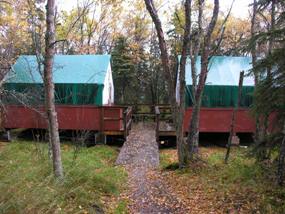 NPS
The National Park Service (NPS) is proposing to construct replacement utility systems and relocate Brooks Camp employee housing to the south side of the Brooks River. The proposed project meets the goals and objectives of the Katmai National Park and Preserve Brooks River Area Development Concept Plan (DCP) and General Management Plan (GMP).
Beginning in 2006 the NPS investigated the cost requirements of constructing a new maintenance facility at the Beaver Pond Terrace location as depicted in the DCP. The NPS concluded that it would have been cost prohibitive to construct a new maintenance facility near the Beaver Pond Terrace and install underground power back to the Lake Brooks facilities using a phased implementation approach. The NPS then studied a new site for the maintenance facility and chose the location farthest south along the Valley Road that would still meet the power requirements for the Lake Brooks facilities. This new area is named the Valley Road Administrative Area (VRAA).
For the proposed project, the NPS developed an Environmental Assessment (EA) to describe three alternatives and analyze their impacts on the environment. Under Alternative 1, the NPS would continue to operate, administer, and maintain the existing facilities at Brooks Camp, which is located on the north side of the Brooks River. No facilities or utilities would be removed or constructed. This is the "No Action" alternative. Under Alternative 2, housing would be located on a single loop road within the VRAA. This is the NPS "Preferred" Alternative. Under Alternative 3, housing would be located on a double loop road within the VRAA. Alternatives 2 and 3 include installation of several utility components: water, wastewater, power, heat, fuel, and fire suppression.