Instructions for Making a Brooks Camp Campground Reservation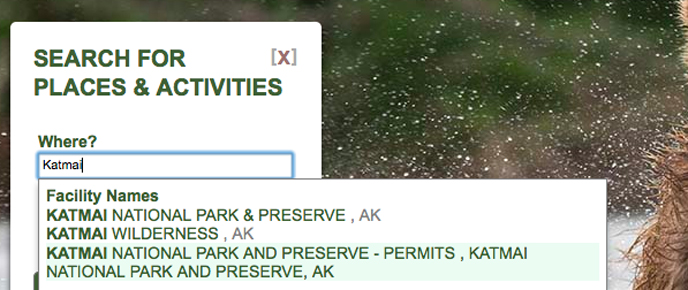 Once you are on the permitting page for Katmai National Park and Preserve, select "Overnight" under the Find Permits menu on the left side of the page.
After the page refreshes, select "Campground" under Entrance Type to make reservations for the Brooks Camp campground, then enter your start date, group size, and length of stay. Click "Search" and this will bring you to the page where you can begin building your itinerary.
Information on America the Beautiful Access and Senior Discounts
Please also note that the reservation system for the Brooks Camp Campground does not currently accept discounts for America the Beautiful Access and Senior passes. However, these discounts can be applied retroactively. Please bring your pass to the Brooks Camp Visitor Center when you check in and rangers will apply the discount then. Discounts for the campground only apply to the pass holder. No discounts will be given for Fure's Cabin permits.