Things To Know Before You Come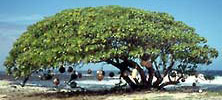 Kalaupapa National Historical Park is administered in cooperation with several Hawai'i state agencies. PERSONS WISHING TO VISIT THE PARK MUST PREARRANGE A TOUR WITH DAMIEN TOURS AT 808-567-6171. ACCESS TO THE PARK WILL BE DENIED TO ANYONE WHO HAS NOT MADE PRIOR ARRANGEMENTS WITH DAMIEN TOURS. The commercial tour company arranges the permit for their customers. NO CHILDREN UNDER THE AGE OF 16 YEARS OF AGE ARE ALLOWED TO ENTER KALAUPAPA. Reservations are required for commercial tours of the settlement, mule rides on the trail and air flights.
WARNING: There are no medical facilities at Kalaupapa. The 3.5 mile trail to the park is extremely steep and challenging with uneven surfaces. Only very physically fit persons should attempt the trail.


Did You Know?

Kalaupapa became a National Historic Landmark (NHL) on the National Register of Historic Places in 1976.  As an NHL, the site is to receive special consideration in protecting its significant historic architecture and cultural landscape resources.