Active Bee Swarms on Pali Trail

Bee hives and swarms have been observed in the vicinity of switchback 26 on the Pali (cliff) Trail. Additional hives may be along the trail. Hikers should be observant of their surroundings and exercise caution.
Getting Around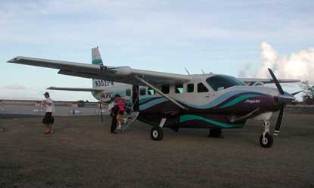 Kalaupapa cannot be reached by automobile. No roads lead to the park because of the surrounding ocean and steep pali cliffs. The park can be reached by air from Oahu, Maui and Ho'olehua, Moloka'i located topside. Flights to Kalaupapa Airport (LUP) can be arranged through Makani Kai Air Charter (877.255.8532 toll free) or (808.834.5813); Molokai Air Tour (808.553.5926); Molokai Outdoors (877.553.4477 toll free) or (808.553.4477); Hawai'i Expedition and Adventure Company (808.349.3006).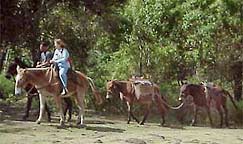 Trail conditions can be wet and muddy in the winter and hot and humid in the summer. Footing can be slippery. A rain jacket is recommended as well as a brimmed hat and sunscreen. Visitors who hike the trail should carry plenty of water. Mule rides can be arranged through Kalaupapa Rare Adventures, LLC dba Kalaupapa Guided Mule Tour, a National Park Service concession (808.567.6088 or 1.800.567.7550).

Visitors may also reach the Kalaupapa peninsula by hiking down the steep Kalaupapa Trail from the topside trailhead located off Highway 470 near Pala'au State Park and the Kalaupapa overlook. The trail links topside Molokai to the Kalaupapa Settlement and has a 1700 foot elevation change, is three miles long and has twenty-six switchbacks. At the bottom of the trail, visitors must connect with the commercial tour. Damien Tours, owned and operated by a Kalaupapa resident offers visitors a tour of Kalaupapa Settlement and Kalawao. (808.567.6171)


Did You Know?

Sea cliffs rising two thousand feet above the peninsula and ocean separate Kalaupapa from the rest of the island of Moloka'i. In 1972 this area was designated as the North Shore Cliffs National Natural Landmark, recognized as a significant example of sea cliffs in the nation's natural heritage.