Coral Reef Activities and Staff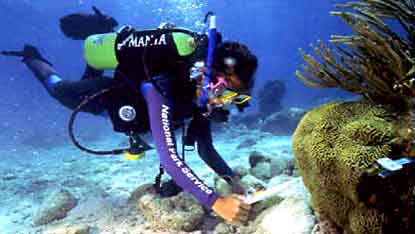 NPS photo by Dan Lanihan.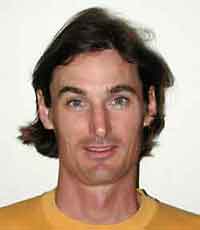 Guy Hughes – Natural Resources Division Chief. Guy, a native of Connecticut, has a B.S. in Biology from the University of Vermont. He began his career in wildlife biology and land stewardship on the island of Moloka'i. For five years he worked for the State of Hawaii Department of Land and Natural Resources, the Research Corporation of the University of Hawaii, the Nature Conservancy of Hawaii's Moloka'i and Maui Projects. He later worked for The U.S. Fish and Wildlife Services Ecological Services in Honolulu, moved to Alaska in 1999 to work for the Koyukuk/Nowitna National Wildlife Refuge Complex, and I returned to Moloka'i in 2001 as the Chief of Resource Management at Kalaupapa National Historical Park.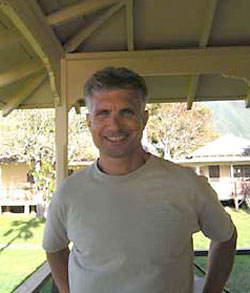 Eric Brown – Marine Ecologist. Eric is the Marine Ecologist for Kalaupapa National Historical Park on Molokai. He received his B.S. degree in Marine Biology from Occidental College in 1981, his M.S. in Biology from Texas A&M University in 1986 and his Ph.D. in Zoology from the University of Hawaii in 2004. His Ph.D. research work focused on coral reef community ecology, specifically spatial and temporal trends in community structure at 6 reefs on Maui.
After moving to Hawaii in 1986, Eric worked with the Pacific Whale Foundation on documenting the recovery and general biology of humpback whales and other endangered marine mammals. In 1989 he branched out into coral reefs and served as principal investigator for 9 years on Maui's Threatened Reef project with the foundation. This project was also done in conjunction with Earthwatch Institute based in Watertown, Massachusetts. His current research focus at Kalaupapa and across the state examines coral recruitment dynamics, long-term trends in coral community structure, and watershed activities in relation to the condition of the marine environment.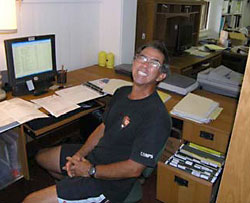 Randall Watanuki – Maintenance Mechanic. Randall's from Hale'iwa on the island of O'ahu and has lived for the past 26 years in Kalaupapa. During this time, he's worked for 23 years with the State Department of Health where he and his wife, Meli, personally received Blessed Damien's Relic from Pope John Paul II in Brussels on June 5, 1995. Randall transferred to the NPS in 2003 after being hired by the Historical Preservation Training Center (HPTC) out of Frederick, Maryland to assist with project work in KALA. His 1.5 year run with HPTC culminated with a 6 week work detail at the White House in 2005. In August 2005, he began working with the Natural Resources Management team serving primarily as a boat operator/diver with a varied range of collateral duties.
Kazuki Kageyama – RCUH Benthic Habitat Specialist. Kalaupapa's latest addition, Kazuki, is the Marine Benthic Habitat Research Specialist contracted through the Pacific Cooperative Studies Unit to support the protocol development of the Inventory and Monitoring Project. He graduated from the University of Hawaii at Hilo in 2006 with a B.A. in Marine Science and a minor in Conservation Biology. The ecology of deepwater seagrass species, specifically spatial and temporal variation of fecundity and of Halophila decipiens in Hawai`i Island, was the focus of his thesis research. He interned for the National Science Foundation/SeaGrant Research Experience for Undergraduates Program at the Pacific Aquaculture and Coastal Resources Center of the University of Hawaii at Hilo; researched the viability of Hawaiian bivalves utilizing aqua/mariculture techniques for conservation applications. In the past, Kazuki taught tropical marine ecology and SCUBA at SEACAMP in Big Pine Key, Florida from 1998 to 1999 and served as the Diving Safety Officer for The School for Field Studies, Center for Marine Resources Studies in the Turks and Caicos Islands, British West Indies from 1999 to 2001.