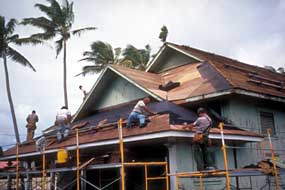 NPS photo.
Rehabilitation of the interior of Paschoal Hall represents a milestone in the long term effort to preserve this iconic building.
To begin the work, all the theater seats were removed, disassembled and crated for shipping to the restoration specialist
who would refurbish the original seats to "as new" condition. This action freed the space of the seating and the wall work.
Extensive damage from infiltration of moisture and insect attack had left the building in need of a great deal of TLC in the form of
preservation carpentry. Preservation ethics call for repair before replacement and replacement only in kind, and that guideline
was strictly followed as structural components, ceiling, floor, and wall boards were repaired or replaced with wood of the
species, dimension, and surface finish. All windows were removed and rehabilitated in the Park carpenter shop. An
indoor accessible restroom was constructed. Paint analysis