A Few Panoramic Scenes Around Kalaupapa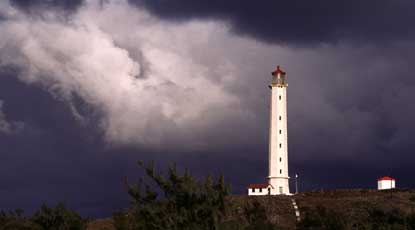 NPS photo.
What's it like here? One way to see for yourself is to stand in one place and slowly turn around, taking in all of the view. These images can do that for you. Click the image or the text link to experience these places.
Please see the Quicktime VR information below if you are unfamiliar with this type of panoramic photography or viewing them on your computer.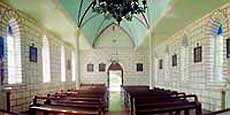 NPS photo.
St. Philomena Church Interior
Take a look at the interior of the restored St. Philomena Catholic Church where the people of Kalawao worshipped. Father Damien was the priest here for 17 years.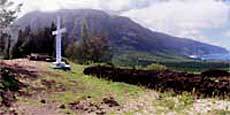 NPS photo.
Kauhako Crater
Near the top of Kauhako Crater are several graves, thought to be associated with the Church of Jesus Christ of Latter Day Saints at the turn of the century. There also stands a large cross erected by the Lions Club. The view is stunning, with the community of Kalaupapa below, the cliffs behind and the Pacific Ocean surrounding the peninsula.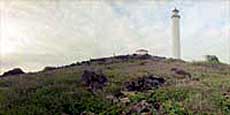 NPS photo
Molokai Lighthouse
The land near Kahiu Point is flat and windy. Lantana, an introduced plant, grows low in the constant ocean wind. Walls built by the Hawaiians are here and stretch back towards the cliffs in the distance. Though near the airport, there is a strong sense of isolation. View panorama from near the lighthouse.
In order to view these images, you will need Quicktime 3 or later. The latest QuickTime software plug-in for Windows 3.1/95/98/NT or the MAC OS is available for free at http://www.apple.com/quicktime/.