Settlement History - the 20th Century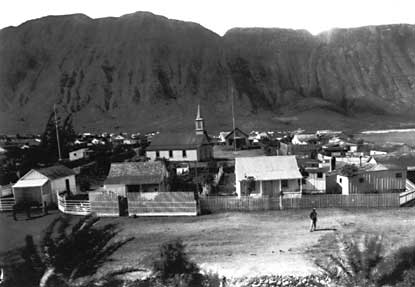 NPS archives.
Early 20th Century
Starting in 1900 the Board of Health implemented a plan to provide high quality services, facilities, utilities, and medical care for patients at Kalaupapa. A major construction program began, with individual cottages, dormitories, hospital facilities and other buildings being built. In 1902 Dr. William J. Goodhue became resident physician and John D. McVeigh became the settlement's superintendent. These two men worked to improve the quality of life within isolation by promoting sports and other activities, improving medical procedures, and by treating patients with respect as human beings.
"There are hospitals for the helpless, and boys' and girls' homes. Churches, schools, and means of entertainment are provided. Athletic sports are common. Every possible means is used to remove the feeling arising from restraint. Medical attendance is constant. Members of both sexes of religious orders devote themselves to the care of these unfortunates. Every provision for support and comfort is made free of cost."
- Report of the Governor of the Territory of Hawaii to the Secretary of the Interior, 1904.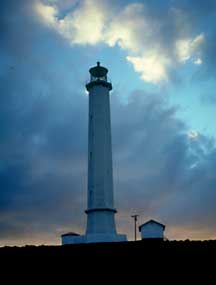 NPS photo.
In the 1900s the Federal Government built two facilities on the peninsula. The Moloka`i Light complex was built on the northern tip of the peninsula to help guide westbound vessels into Honolulu harbor on O`ahu. Opened in 1910, a succession of lighthouse keepers and their families lived at the station, segregated from the rest of the population. Over in Kalawao, a hospital complex was built to conduct Hansen's disease research. The Public Health and Marine Hospital Service operated the US Leprosy Investigation Station from 1909-1913. In spite of superior facilities and generous funding, isolation and an inability to attract patients willing to undergo medical and drug experiments led to its early closing. Click here to see a panorama view from the lighthouse area.
Read the 1917 Annual Report on the Settlement.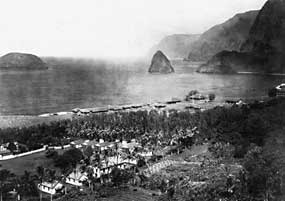 NPS archives.
By 1919 treatments of chaulmoogra oil, derived from seeds of trees found in India and Southeast Asia, offered hope as a cure for Hansen's disease. People dared to think Kalaupapa settlement could be closed. After 10 years, however, belief in the curative powers of the oil waned. Despite the years of medical research a cure seemed as remote as ever.
Read the 1929 Annual Report on the Settlement by John McVeigh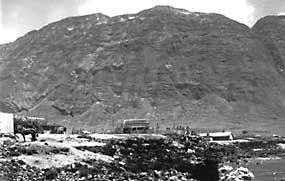 NPS archives.
Kalaupapa's physical infrastructure was in need of an overhaul. Territory of Hawai`i Governor Lawrence M. Judd reorganized the leprosy control program in the early 1930s and undertook ambitious construction and rehabilitation projects. State-of-the-art water and power systems were installed; facilities such as a hospital, store, service station, and houses were built; and roads paved. After Brother Joseph Dutton died in 1931, a new home for boys was built at Kalaupapa and all of the children moved over from Kalawao.
"Kalaupapa…is a settlement where the individuals are permitted to live their lives pretty much as they wish. They maintain their own homes in separate cottages and may have a garden, raise chickens, and live under conditions similar to those elsewhere."
- Annual Report of the Governor of Hawaii to the Secretary of the Interior, 1938
Post World War II
Dramatic changes both in the treatment of Hansen's disease and in attitudes towards patients occurred with the discovery of sulfone drugs as a cure for the disease. Introduced into Hawai`i in 1946, the new medications brought almost immediate reductions of symptoms and vast improvements in the quality of health and life.
Former Governor Lawrence M. Judd became Kalaupapa's resident superintendent in 1947, and he and his wife Eva Marie promoted social activities and adult education classes. Boy Scouts, Girl Scouts, Lion's Club, American Legion, and other organizations opened Kalaupapa to the wider world. Many remaining physical barriers separating patients from workers were removed.
With drug therapies, Hansen's disease patients were no longer contagious. There was no further need for isolation. In 1969 the century-old laws were finally abolished. Former Hansen's disease patients living in Kalaupapa today have chosen to remain here, most for the rest of their lives.
Kalaupapa has been home for 100 years for people once cast from society, but it is in transition due to its ever-decreasing patient population. It is quieter than it once was. There are fewer buildings. Life today is lived at a somewhat slower pace. But Kalaupapa remains a remarkable place with an extraordinary history—a place exhibiting the worst and the best of human responses to the challenge of sickness.
Click here to read Hansen's disease patients' first hand accounts of life at Kalaupapa.