Settlement History - Why Here?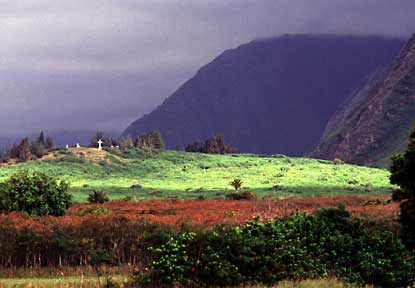 NPS photo.
Few places in the world better illustrate the human capacity for endurance or for charity than the remote Kalaupapa Peninsula on the island of Moloka'i. The area achieved notoriety in 1865 when the Kingdom of Hawai`i instituted a century-long policy of forced segregation of persons afflicted with Hansen's disease, also known as leprosy. The Legislative Assembly had passed, and King Kamehameha V approved, "An Act to Prevent the Spread of Leprosy" to set apart land to seclude people believed capable of spreading the disease.

But why was this place chosen to isolate people with a seemingly incurable illness? Foremost, the Kalaupapa Peninsula was isolated and fairly inaccessible. To the south, the peninsula was cut off from the rest of Moloka`i by a sheer pali, or cliff about 2,000 feet high. The ocean surrounded the east, north and west sides. In good weather, landings were only practical at Kalaupapa and Kalawao; both inhabited by Hawaiians.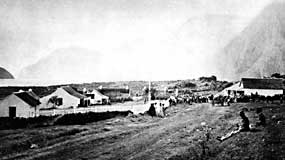 NPS archives
Second, the land could support people. Vegetables such as sweet potatoes, fruits, and taro could be grown in the pali valleys and on the considerable amount of flat land. The ocean and tidal pools provided food and fresh water was available from Waikolu Valley and Waihanau Valley.
Once the decision was made, and the law passed, the government proceeded to purchase lands and move the Hawaiian residents to other homes. The village of Kalawao on the isolated Kalaupapa Peninsula thus became home to thousands of leprosy victims subsequently moved here from throughout the Hawaiian Islands.
Hawai`i's actions brought attention to the mysterious and dreaded disease that reached epidemic proportions in the islands in the late 1800's. With new cases threatening to eradicate the native population and no knowledge of what caused the disease, officials were desperate. At the time, there was no effective treatment and no cure. To government officials, isolation seemed the only answer.