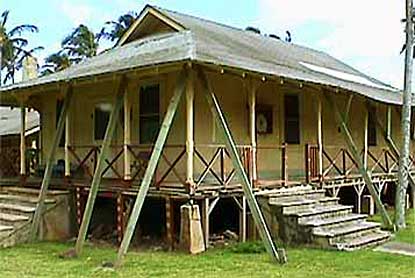 NPS photo.
A recent major building rescue is Bayview 6. This building was constructed in 1917 and served as the dining hall for Bayview Home. The Kalaupapa settlement was organized into housing areas or "homes". Each home had dormitories, cottages, and a central kitchen & dining hall. Bayview 6 was the kitchen & dining hall for the Bayview Home.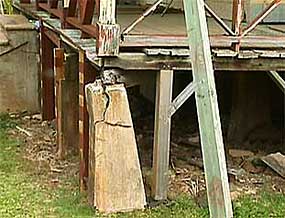 NPS photo.
After its use as the dining hall, Bayview 6 was used as an arts and crafts shop, an important physical therapy for the residents. The building was eventually transferred to the National Park Service and is now used for offices.
The repair project involves removal of the porch (or lanai in Hawaiian), repair of the concrete foundation posts, replacement of damaged beams and siding, and roof replacement.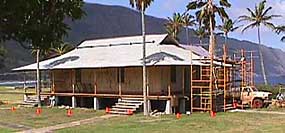 Bayview 6 being repaired.