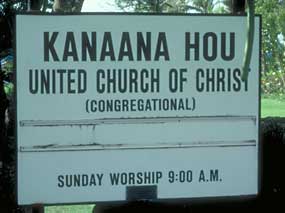 NPS photo.
Go to church. There are three churches in town, including St. Francis Catholic Church, Church of Jesus Christ of Latter Day Saints, and Kanaana Hou United Church of Christ. Over in Kalawao there are two historic churches, St. Philomena and Siloama.
"Talk Story." In a community so small, people run into people anyplace, anytime, and take time to visit.
"Catch air." Pickup trucks are popular in Kalaupapa. So are dogs. At any time of the day people in pickups with dogs in the back can be seen "catching air" during drives out to the airport and back.
Hear a music concert. People attend live concerts to hear musicians as Makaha Sons, John Keawe, and Ray Kane. Church groups from around the islands also fly in to sing for and with local residents. And the musicians consider it an honor to perform for the people of Kalaupapa.
Eat. Community-wide dinners are a popular activity, with traditional Hawaiian, Japanese, Chinese, and Filipino foods being typical fare.