Daily Life has its own pace at Kalaupapa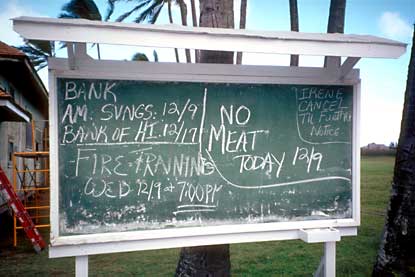 NPS photo.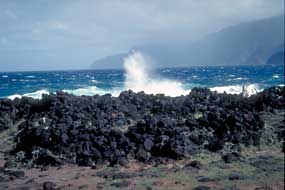 NPS photo.
What People Do
Enjoy the scenery. People can take a break from the day's routine to look at some of the most spectacular natural scenery in the world. From anywhere in the community you can look up at the dramatic 2,000-foot pali that separates the KalaupapaPeninsula from "topside," the local term for the rest of Moloka`i. Or people can walk a few steps to the ocean and enjoy the clear blue waters of the Pacific Ocean crashing against the black lava or white sandy beaches.
Celebrate Christmas in July. Once a year, usually July, people get a good seat by the dock to watch all the bulk supplies for the year being unloaded from the barge. Canned goods for the grocery store, furniture, automobiles and trucks, washers, dryers, refrigerators, beer for the bar, a year's supply of gasoline, construction supplies; all arrive on the barge. It's the best show in town.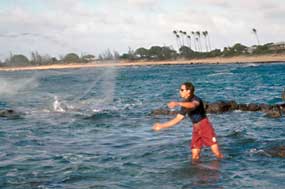 NPS photo
Go fishing. Many of the locals are expert fishermen. Generally they use a pole and fish directly in the surf. And some people watch (at a distance, with respect) as the fishermen stand in the water up to their knees or hips casting their nets. It's an art.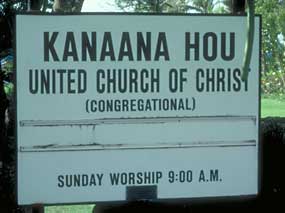 NPS photo.
Go to church. There are three churches in town, including St. Francis Catholic Church, Church of Jesus Christ of Latter Day Saints, and Kanaana Hou United Church of Christ. Over in Kalawao there are two historic churches, St. Philomena and Siloama.
"Talk Story." In a community so small, people run into people anyplace, anytime, and take time to visit.
"Catch air." Pickup trucks are popular in Kalaupapa. So are dogs. At any time of the day people in pickups with dogs in the back can be seen "catching air" during drives out to the airport and back.
Hear a music concert. People attend live concerts to hear musicians as Makaha Sons, John Keawe, and Ray Kane. Church groups from around the islands also fly in to sing for and with local residents. And the musicians consider it an honor to perform for the people of Kalaupapa.
Eat. Community-wide dinners are a popular activity, with traditional Hawaiian, Japanese, Chinese, and Filipino foods being typical fare.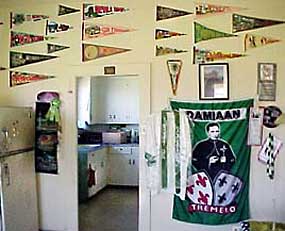 NPS photo.
Travel throughout the state. People fly to Honolulu or outer islands for a weekend away and a dose of civilization. Major shopping usually occurs on these trips. Travel to the mainland is popular too. Las Vegas is a favorite destination.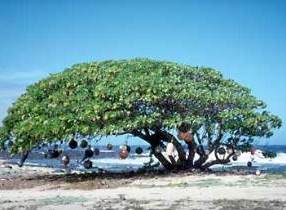 NPS photo
Enjoy a slower pace of life. There are many opportunities for solitude in Kalaupapa, often described as looking and feeling like the "old" Hawai`i of 50 years ago.

Feel the mana of the `aina. Kalaupapa is a very spiritual place.
Take a visual tour of the signs of Kalaupapa.