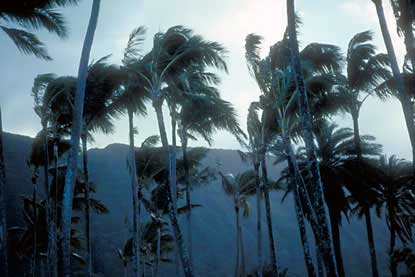 NPS photo.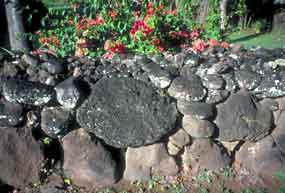 NPS photo.
Why does Kalaupapa settlement remind people of "old" Hawai`i? Why does its appearance reflect an earlier time? The answer may lie in the settlement's scenic natural landscape and in its cultural landscape. These provide both the large backdrop and the small detail for Kalaupapa's historic appearance.
A cultural landscape reflects human adaptation and use of natural resources. At Kalaupapa, this can be seen in the way Hawaiians organized and divided the land into ahupua`a. It can be seen in the Board of Health's expansion plans and building layout. Over the years, decisions were made whether to use land for cattle grazing or growing taro, or for building racetracks and baseball fields. A look at Kalaupapa's road system reveals how people moved around on the land to connect with the pali trail, airport, and Kalawao. The types of structures built in the settlement—religious, administrative, recreational, and housing—also contribute to its appearance.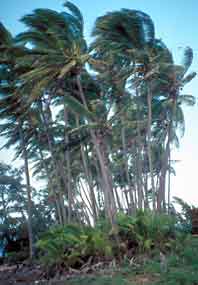 NPS photo.
In looking at Kalaupapa's cultural landscape, several characteristics and features are recognized easily. These characteristics and features are usually associated with events or trends in Kalaupapa's history. For instance, there are numerous groves of coconut palm trees throughout the settlement. These were planted in common use areas and around major structures in the 1930s, during a period of rebuilding and infrastructure improvements. Today they provide shade and beauty.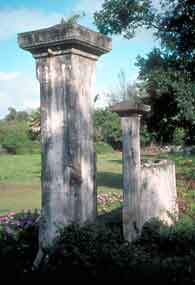 NPS photo.
Another characteristic is the clustering of buildings. Many buildings in the settlement were clustered to provide care for the patients, or to support operation and administrative services. Over the years, the Board of Health designed and built six building clusters for different uses, including Bay View Home (for visual and mobility impaired patients), Bishop Home (for girls and young women), McVeigh Home (for Caucasian patients), Staff Row (to segregate na kokua from patients), and Baldwin Home (for boys and young men in both Kalawao and Kalaupapa,). The store, warehouses, post office and gas station are clustered in the "heart" of town near the Kalaupapa landing.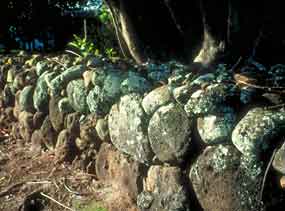 NPS photo.
Rock walls
are everywhere in the cultural landscape. Prior to 1866, Hawaiians living on the peninsula built hundreds of them to shelter sweet potato plants. Hansen's disease patients living in Kalawao and Kalaupapa built them to keep cattle out of their yards and the
cemeteries
. Some of these rock walls have dramatic stone and concrete pillars, indicating an entranceway.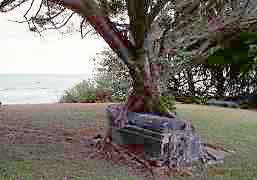 NPS photo.
Kalaupapa, with its coconut palms, flowering vegetation, vernacular Hawaiian architecture and stone walls, all within a setting of ocean and sea cliffs, is a beautiful place. At first glance, it looks like paradise. But with a knowledgeable, longer look, Kalaupapa's cultural landscape also illustrates its history as a place of "exile" in paradise.