Architectural Landmarks of Kalaupapa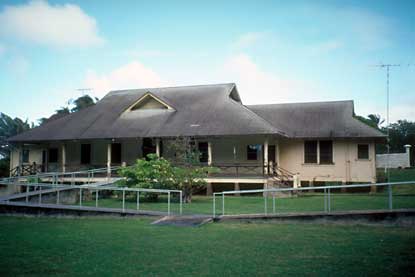 NPS photo.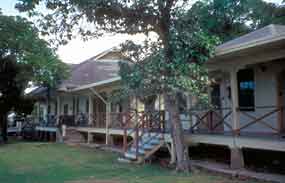 NPS photo.
Bayview, a complex that originally included housing and a dining hall for infirm patients, is one of the settlement's most elaborate expressions of the plantation style. It consists of two large detached buildings and three buildings joined by covered porches. Large intersecting hipped roofs with louvered gablets, deep roof overhangs with bracketed eaves, and sweeping verandas with decorative porch posts and diamond-pattern railings are the distinguishing features.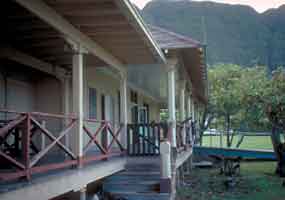 NPS photo.
Today Bayview has been restored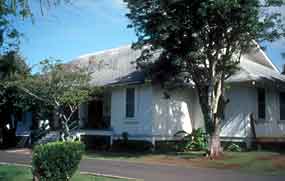 NPS photo
McVeigh Home, named for a popular superintendent, it is the most intensively developed site in the community.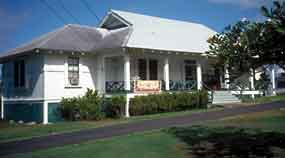 NPS photo
McVeigh is the most recent and least altered complex in Kalaupapa.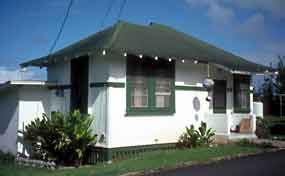 NPS photo.
The late 1920s-early 1930s era complex includes two 11-room dormitories, a kitchen-dining room facility, a central recreation pavilion and 24 cottages of varying sizes.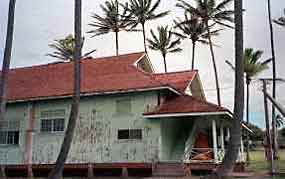 NPS photo.
The largest historic structure in the town is
Paschoal Hall
, with 6,100 square feet of interior space. It has a massive hipped roof, with overhanging bracketed eaves and vertical plank siding. Built in 1916, the hall served as the community center and movie theater and holds fond memories for long-time residents. The National Park Service recently restored the building.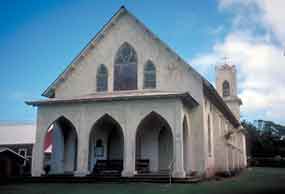 NPS photo.
St. Francis Catholic Church is prominently located directly across from the historic landing where barges continue to dock as they did throughout the century.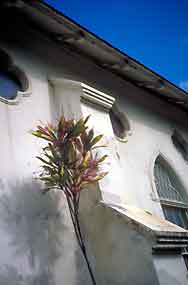 NPS photo
St. Francis was built in 1908 and is of masonry construction with Gothic windows and a rear tower.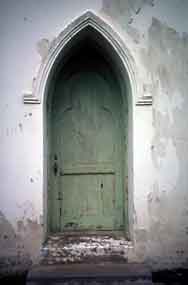 NPS photo.
The church spire blends with the tall coconut palms to define Kalaupapa's distinctive skyline.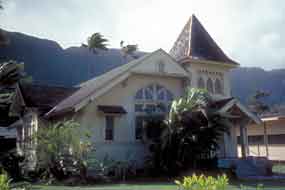 NPS photo
Kanaana Hou United Church of Christ is equally impressive.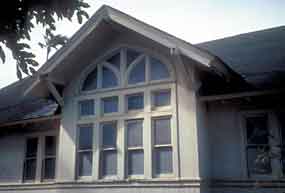 NPS photo.
The frame church dates to 1915 and has interesting plantation style detailing both on the interior and exterior.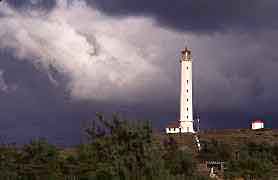 NPS photo.
Although not part of the settlement proper, the Moloka`i Light is closely tied to the history of the peninsula and the Hawaiian Islands. This lighthouse guided westbound ships into Honolulu harbor on O`ahu. Built near the tip of the peninsula, the concrete tower with its second order Fresnel lens opened in 1909 and is 138 feet in height, the tallest US lighthouse in the Pacific Ocean. Today the light is automated and is maintained by the US Coast Guard.
Kalaupapa is not the bustling town it once was earlier in the century. As the population has declined, so has the number of buildings. Weather, fire, and insect infestations take their toll on unoccupied buildings. The two Baldwin Homes, the US Leprosy Investigation Station, and much of the Bishop Home are all gone. Despite the losses, the historic focus and character of the community is still clearly visible.
Kalaupapa Leprosy Settlement was recognized in 1976 for the significance of its archeology, history, and architecture when it was listed as a national historic landmark on the National Register of Historic Places. This is the highest designation the federal government can bestow on an historic property