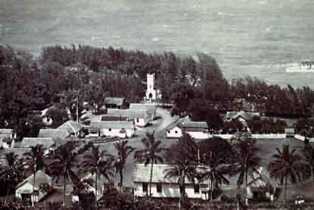 Buildings at Kalawao were initially influenced by the existing conditions upon arrival of the first patients in 1866. Early patients made use of existing structures and locations and used whatever materials they could find. Most buildings were situated along a single, existing road (now Damien Road) and were primitive huts or shelters. At its height in 1890, Kalawao was a large community, consisting of about 325 frame structures that provided homes and services to around 1,100 patients. The houses provided protection against the weather, and Father Damien, with the help of patients, was responsible for building about 300 of them. Father Damien was also instrumental in founding the "Home for Boys" (later called Baldwin Home) in Kalawao. The complex consisted of a number of cottages arranged around a central open space. The Baldwin Home for Boys in Kalawao was abandoned in 1932, and patients were moved to Kalaupapa. The remains of the old Baldwin Home were destroyed by fire in 1936.
Today scattered building foundations, stone walls, cemeteries, and two churches, Siloama Congregational Church and St. Philomena Catholic Church, are all that remain of this once populous community.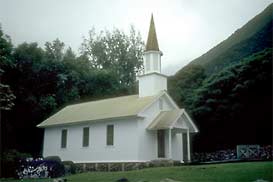 Siloama was the first church to be erected at Kalawao Settlement, originally constructed in 1871 by the Congregational Church. It has undergone a number of successive alterations including being rebuilt in 1880 and completely reconstructed in 1966. The white wood-frame structure rests on concrete pilings, and is one story with a gabled portico over a concrete slab, six double-hung windows, small steeple, corrugated gable metal roof, horizontal channel siding and corner boards. Services continue to be held at this location once a month.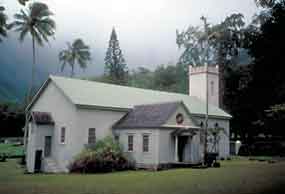 St. Philomena, the first Catholic church on the peninsula, was built in a simple gothic style 1872 in proximity to Siloama Church. Built in successive stages, the building has stone and wood walls, a bell tower, and hipped roof. Double hung windows are on the older portion to the rear and eight triple hung windows in gothic arch recesses line the sides of the more substantial addition. The building is closely associated with Father Damien, who's grave lies to the east. Services are held at this location for special feast days and commemorative masses.