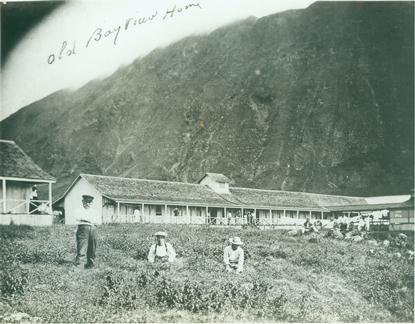 The 20th Century: 1900 - 1945
Starting in 1900 the Board of Health implemented a plan to provide high quality services, facilities, utilities, and medical care for patients at Kalaupapa. A major construction program began, with individual cottages, dormitories, hospital facilities and other buildings being built. In 1902 Dr. William J. Goodhue became resident physician and John D. McVeigh became the settlement's superintendent. These two men worked to improve the quality of life within isolation by promoting sports and other activities, improving medical procedures, and by treating patients with respect and human decency.
The Board of Health records over the years reveal how the disease knew no racial or ethnic boundaries. In the Board of Health's annual report for 1903, the records show the total patient population at Kalaupapa to be 888 people – 541 males and 347 females. Of that number, 459 males and 338 females were Hawaiian. Among the other major racial groups represented were 40 Chinese men and 3 Chinese women; 12 Portuguese men and 2 Portuguese women; and seven "American" men and one "American" woman.
In the 1900s the Federal Governement of the United States of America built two facilities on the peninsula. The Molokai Light was built on the northern tip of the peninsula to help guide westbound vessels into Honolulu Harbor on O'ahu. Opened in 1910, a succession of lighthouse keepers and their families lived at the station, segregated from the patient population. Over in Kalawao, a hospital complex was built to conduct Hansen's disease research. The Public Health and Marine Hospital Service operated the US Leprosy Investigation Station from 1909 – 1913. In spite of superior facilities and generous funding, isolation and an inability to attract patients willing to undergo medical experiments led to its early closing.
By 1919 treatments of chaulmoogra oil, derived from seeds of trees found in India and Southeast Asia, offered hope as a cure for Hansen's disease. People dared to think Kalaupapa settlement could be closed. After 10 years however, belief in the curative powers of the oil waned. Despite the years of medical research a cure still seemed as remote as ever.
By 1924, the patient population had been reduced by almost half. Among the 485 patients remaining, the largest racial groups represented were 169 Hawaiian men and 101 Hawaiian women; 53 part-Hawaiian men and 43 part-Hawaiian women; 28 Japanese men and 4 Japanese women; and 24 Filipino men and one Filipino woman.
By the 1930s Kalaupapa's physical infrastructure was in need of an overhaul. Territory of Hawai'i Governor Lawrence M. Judd reorganized the leprosy control program in the early 1930s and undertook ambitious construction and rehabilitation projects. State-of-the-art water and power systems were installed; roads were paved; and facilities such as a hospital, store, service station, and houses were built.