Management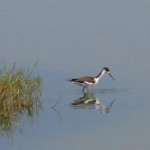 NPS photo
The National Park Service is developing an 'Aimakapā Wetlands Vegetation and Waterbird Management Plan to address the management of alien plant and aquatic species, improve waterbird habitat for the endangered Hawaiian stilt and Hawaiian coot, and protect and stabilize historic properties. We seek your kōkua and participation as we develop this Plan. The Management Plan will include an Environmental Assessment (EA) that will analyze methods for removal and maintenance of invasive species as well as stabilization and preservation of historic properties.
We request your input in the development of the Management Plan/Environmental Assessment, to discuss a planned pilot study to hand-remove small plots of invasive alien vegetation that will aid in developing the Management Plan, and to initiate consultation with interested members of the public to identify and discuss historic properties within the project's area of potential effect. All parklands are included in the area of potential effect.
'Aimakapā is a historically-important fishpond within the Honokohau Settlement National Historic Landmark, and is one of only two natural brackish wetlands on the Kona coast that has, in the past, supported significant numbers of federally-endangered Hawaiian stilt and Hawaiian coot. The pond is designated as 'core habitat' for these species in the US Fish and Wildlife Service's Recovery Plan for Hawaiian Waterbirds (2011). However, in recent years, waterbird populations have declined significantly at 'Aimakapā. This decline is believed to be due largely to loss of open water and mudflat habitats through overgrowth of alien invasive plant species. This same overgrowth also threatens many important archeological features (structural platforms, rock walls, petroglyphs). Kaloko-Honokōhau NHP's General Management Plan/EIS (1994) and Resource Management Plan (1999) have identified restoration and management of 'Aimakapā Fishpond as priority resource management actions. We look forward to hearing your ideas, concerns, and thoughts about future management of 'Aimakapā Fishpond.
A Vision For 'Aimakapā
Preservation and perpetuation of Fishpond nature and culture
Protected and stabilized cultural resources
Improved hydrological function and water quality
Reduced cover of native plants
Enhanced habitat for resident and migratory waterbirds
Reduced populations of predators and invasive fishes
Increased opportunities for environmental education and volunteer stewardship
Protection of surrounding lands and resources
Please address your comments to:
Kaloko-Honokohau National Historical Park, c/o Resource Manager
73-4786 Kanalani St. #14
Kailua-Kona, HI 96740
or email comments to Project Partner Dr. Melanie Truan at mltruan@ucdavis.edu
The Act that created the park in 1978


Did You Know?

Did you know, the coconut tree was an extremely important resource brought to Hawaii by the early Polynesians. It was a source of food and water, used for building homes and rope making, and was also a musical instrument. Cutting down the coconut grove of another was considered an act of war.