Places To Go
There are eight National Park Service sites located along the Anza Trail corridor. For directions, visit the National Park Service Sites webpage.
To learn about sites with primary exhibits or information on the 1775-76 Anza Expedition and the Anza Trail, visit the Anza Related Sites webpage.
Use the on-line Anza Trail Guide to plan your visit for each of the 19 counties along the trail.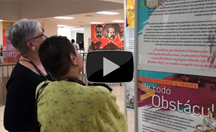 Anza Trail Traveling Exhibit

Created in 2011, a traveling, bilingual exhibit tells the story of the multiethnic Anza Expedition of 1775-76. Help share the story of the Anza Trail in your community. To bring the exhibit to your library, university, community room, or other public venue, please email us or call 415-623-2344.

See pictures of the exhibit panels here.
NPS

Visit the Anza Trail Exhibit in Martinez, Calif.

The historic 1849 Martinez Adobe at the John Muir National Historic Site in Martinez, Calif., hosts the permanent exhibit of the Juan Bautista de Anza National Historic Trail. This multi-sensory experience engages visitors through evocative images and an ambient soundscape, a detailed diorama portraying the vast scope of the expedition party, and interactive displays. The exhibit encompasses perspectives representing the diversity of people whose lives were changed by this significant journey.
John Muir National Historic Site
4202 Alhambra Avenue
Martinez, CA 94553
925-228-8860
Open daily for self-guided tours, 10AM - 5PM