Where to Experience the Anza Trail
The 1,200-mile Juan Bautista de Anza National Historic Trail connects history, culture, and outdoor recreation across 20 counties of Arizona and California. Each site along the Anza Trail is independently operated. Hours, fees, and use rules vary.
Visit the Anza Trail Exhibit
The historic 1849 Martinez Adobe at the John Muir National Historic Site in Martinez, Calif., hosts the only permanent exhibit of the Juan Bautista de Anza National Historic Trail.
This multi-sensory experience engages visitors through evocative images and an ambient soundscape of life on the trail, a detailed diorama portraying the vast scope of the expedition party, and interactive displays. The exhibit encompasses perspectives representing the diversity of people whose lives were changed by this significant journey.
John Muir National Historic Site
4202 Alhambra Avenue
Martinez, CA 94553
925-228-8860
http://www.nps.gov/JOMU
Open daily for self-guided tours, 10AM - 5PM
Bring Our Traveling Anza Trail Exhibit to Your Community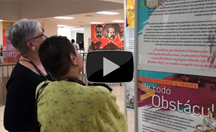 Created in 2011, a traveling, bilingual exhibit tells the story of the multiethnic Anza Expedition of 1775-76. Help share the story of the Anza Trail in your community. To bring the exhibit to your library, university, community room, or other public venue, please email us or call 415-623-2344.

See pictures of the exhibit panels here.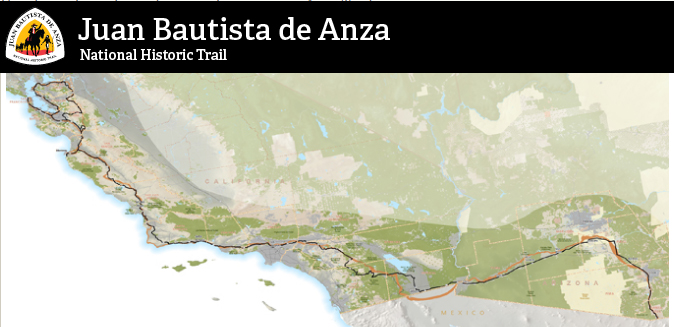 Interactive Map & Online Trail Experience

Visit our partner website, http://www.AnzaHistoricTrail.org, for a dynamic online Anza Trail experience:
Discover points of interest, recreation trails, and historic sites along the Anza Trail
Create custom maps of the Anza Trail's Historic Corridor, Auto Route, and Recreation Trails
Find local events
Read expedition diaries (courtesy of Web de Anza) and toggle an expedition timeline to follow the colonists as they traveled north
Download county maps and read county guides of trail resources (adapted from the Anza Trail Guide by 1775-1776 Anza Colonizing Expedition descendant Greg P. Smestad, Ph.D.)
Earn your Junior Ranger badge by completing a virtual expedition
And much more!
AnzaHistoricTrail.org is a partnership of the Juan Bautista de Anza National Historic Trail and the Anza Trail Foundation.