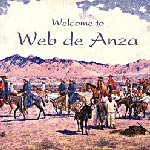 Expedition Journals
The most thorough historical and cultural source of on-line information on the 1775-76 Anza Expedition can be found at Web de Anza. Access the journals written by various members of the expedition. Research additional information and materials. Use this interactive study environment on Spanish 1774-76 exploration and colonization of Alta California (maintained by the University of Oregon).
Ethnography: The Settlers of San Francisco
Download the 2011 study, Analyzing 18th Century Lifeways of Anza Expedition Members in Northwestern Sinaloa and Southwestern Sonora, Mexico (80MB PDF), prepared by the Bureau of Applied Research in Anthropology at the University of Arizona. This report provides ethnographic and ethnohistorical information on the lifeways (material and non-material culture) of the people who settled San Francisco.
Historic Resource Study
This 2012 Historic Resource Study provides an overview and synthesis of the currently available literature about Anza's overland colonizing expedition of 1775-1776, as well as an extensive bibliography to aid additional research. Download the 268-page study (6MB PDF), prepared for the National Park Service by Dr. Peter Gough of the University of Nevada, Las Vegas.