Curriculum Materials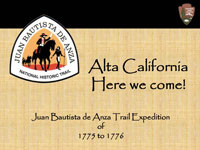 NPS
Alta California Here We Come! One-Day Curriculum for Grades 3-4: The curriculum is a 45-60 minute lesson. Using a PDF PowerPoint program and a worksheet map, students experience the 1776 Anza Expedition challenges and learn how to trace their route on a map.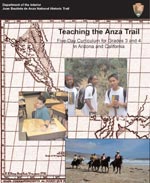 NPS
Teaching the Anza Trail - Five-day Curriculum for Grades 3-4: The curriculum has five 1-hour lesson plans that can be completed consecutively or separately. Each student role plays as one of the 1776 Anza Expedition members and experiences the journey through a variety of activities and reflections.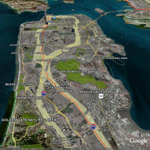 Google Earth
An Expedition of Change - High School World Geography: The curriculum lesson plan has three components and culminates with students developing a tour based on the Anza Trail Google Earth file. Lesson One and Three are conducted in the classroom. Lesson Two is an outdoor component and can be conducted during a neighborhood walk, trail hike, or on the school grounds.