Curriculum Materials
NPS
Alta California Here We Come! One-Day Curriculum for Grades 3-4: The curriculum is a 45-60 minute lesson. Using a PDF PowerPoint program and a worksheet map, students experience the 1776 Anza Expedition challenges and learn how to trace their route on a map.
NPS
Teaching the Anza Trail - Five-day Curriculum for Grades 3-4: The curriculum has five 1-hour lesson plans that can be completed consecutively or separately. Each student role plays as one of the 1776 Anza Expedition members and experiences the journey through a variety of activities and reflections.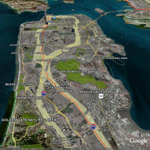 Google Earth
An Expedition of Change - High School World Geography: The curriculum lesson plan has three components and culminates with students developing a tour based on the Anza Trail Google Earth file. Lesson One and Three are conducted in the classroom. Lesson Two is an outdoor component and can be conducted during a neighborhood walk, trail hike, or on the school grounds.
Did You Know?

The Juan Bautista de Anza National Historic Trail was created by Congress so that communities, private land owners, and local governments can take the lead in establishing the 1200-mile trail. The National Park Service offers its support for local and citizen-based trail creation. More...