An Expedition of Change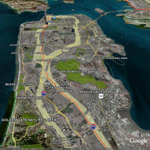 Google Earth
An Expedition of Change - High School World Geography: The curriculum lesson plan has three components and culminates with students developing a tour based on the Anza Trail Google Earth file. Lesson One and Three are conducted in the classroom. Lesson Two is an outdoor component and can be conducted during a neighborhood walk, trail hike, or on the school grounds.
The list below includes the lesson plan, each lesson, all the lessons together in one file titled "Entire Curriculum," and a link to the Anza Trail Google Earth file. For more information or suggestions, contact the Anza Trail staff at (510) 817-1323.
Lesson One - Immigration, Geographer Tools, Spanish Colonialism, Resouces list
Lesson Two - Trail Exploration, Trail Safety Guidelines, Student Trail Worksheet, Compass & Topo Map Activities, Teacher Trail Summary
Lesson Three - Google Earth Tour Project
Entire Curriculum - All lesson files
Anza Trail Google Earth file (for further instructions, visit the Anza Trail Park Home page)
Did You Know?

In 1774, Spaniard Juan Bautista de Anza met Chief Palma of the Quechan (pronounced khet-chan) tribe and they became friends. When Anza returned a year later with more than 240 settlers bound for California, Palma gave Anza 6000 watermelons. The Quechan people still grow these watermelons today. More...