For Kids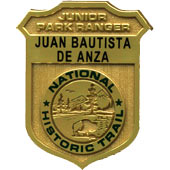 Earn a Junior Ranger Badge with the Anza Trail

Commander Anza is recruiting people to go to Alta California! Are you ready to make the trip? Visit our online Junior Ranger program at http://www.AnzaJuniorRanger.org.

See if you can make the right decisions to reach Alta California as a member of the Anza Expedition and we will send you an official Anza Trail Junior Ranger badge!




Did You Know?

Lt. Colonel Juan Bautista de Anza was one of the first Spaniards to visit the Casa Grande ruins in modern day Arizona in 1775. He had his priest, Father Pedro Font, measure its dimensions with a lance, and then use an astronomical quadrant to fix its astronomical position. More...