Cottonwood Trails Closed

Trail access remains closed to Cottonwood Spring Oasis, Lost Palms Oasis, and Mastodon Peak. More »
Pinto Basin Road Under Construction; Expect 30+ Minute Travel Delays

Visitors should expect 30+ minute waits when heading north and sound bound on the Pinto Basin Road. Due to construction activity around Cottonwood Visitor Center, additional waits of 30 minutes may be in place when leaving the visitor center parking lot. More »
Deteriorating conditions of Black Rock Canyon Road

The road leading to Black Rock campground has deep potholes, is deeply rutted, and can be difficult to negotiate, especially in large vehicles. Please drive with caution.
Skull Rock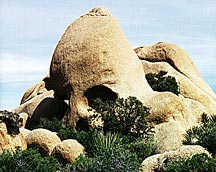 It began long ago when rain drops accumulated in tiny depressions and started to erode the granite. As more rock eroded, more water accumulated, leading to more erosion until, as time passed, two hollowed-out eye sockets formed and the rock began to resemble a skull.
Located along the main east-west park road, Skull Rock is a favorite stop for park visitors. A parking spot is located just across the road from the rock.
For those wishing to stretch their legs, a 1.7-mile nature trail begins either just across from the entrance to Jumbo Rocks Campground or inside the campground, across from the amphitheater.
Did You Know?

Joshua Tree National Park has over 550,000 acres of wilderness, offering visitors opportunities to explore where few others have ventured. More...