Access to some Cottonwood trails remains closed

Trail access remains closed to Cottonwood Spring Oasis, Lost Palms Oasis, and Mastodon Peak.
Skull Rock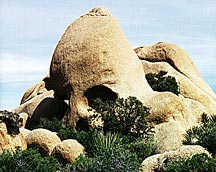 It began long ago when rain drops accumulated in tiny depressions and started to erode the granite. As more rock eroded, more water accumulated, leading to more erosion until, as time passed, two hollowed-out eye sockets formed and the rock began to resemble a skull.
Located along the main east-west park road, Skull Rock is a favorite stop for park visitors. A parking spot is located just across the road from the rock.
For those wishing to stretch their legs, a 1.7-mile nature trail begins either just across from the entrance to Jumbo Rocks Campground or inside the campground, across from the amphitheater.
Did You Know?

In the high desert country that was to become Joshua Tree National Park, rugged individuals tried their luck at cattle ranching, mining, and homesteading. William Keys and his family are particularly representative of the hard work and ingenuity it took to settle and prosper in the Mojave Desert. More...