Pinto Basin Road Under Construction; Expect travel delays up to 30-minutes

The ongoing construction project to improve Pinto Basin Road will impact travel between the northern portion of the park and the Cottonwood/I-10 area. Please plan accordingly. The project is expected to be completed in August 2014. More »
Deteriorating conditions of Black Rock Canyon Road

The road leading to Black Rock campground has deep potholes, is deeply rutted, and can be difficult to negotiate, especially in large vehicles. Please drive with caution.
Access to some Cottonwood trails remains closed

Trail access remains closed to Cottonwood Spring Oasis, Lost Palms Oasis, and Mastodon Peak. More »
Keys Ranch Guided Walking Tour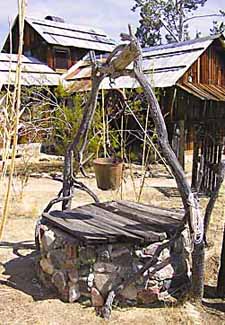 David Glasglow
In the high desert country that was to become Joshua Tree National Park, rugged individuals tried their luck at cattle ranching, mining, and homesteading. William F. Keys and his family are particularly representative of the hard work and ingenuity it took to settle and prosper in the Mojave Desert.
The ranger-guided tour of the ranch includes the colorful story of the 60 years Bill and Frances spent working together to make a life and raise their five children in this remote location. The ranch house, school house, store, and workshop still stand; the orchard has been replanted; and the grounds are full of the cars, trucks, mining equipment, and spare parts that are a part of the Desert Queen Ranch story.
Visiting the Ranch Listed as a National Historic Register Site, the property is located in a remote, rocky canyon in Joshua Tree National Park. To preserve its historic character, admission to the ranch is restricted to guided walking tours. The tours are a half-mile in length and last 90 minutes. Group size is limited to 25 people.
Tour Schedule Tours are offered at 2 pm on Fridays and Saturdays and at 10 am on Sundays. You may call 760-367-5522 for information and to make reservations.
Cost The tour costs $5.00 per person aged 12 and over and $2.50 for children 6 to 11. Children under six are admitted free. Senior and Access Pass (Golden Age and Golden Access pasport) holders pay $2.50. There is also a $15.00 per car entrance fee good for a seven-day visit to the park. Entrance fees are payable at park entrance stations.
Reservations You may book a tour by calling 760-367-5522 between 9 am and 4:30 pm any day of the week. Space will not be reserved until payment is received; credit cards are accepted. Tickets may also be purchased prior to the day of the tour at the Cottonwood, Joshua Tree, and Oasis visitor centers. Tickets are no longer sold at the ranch gate.

Directions To find the ranch, pass the entrance to Hidden Valley Campground, turn left at the Y-intersection, follow the road approximately two miles to the locked gate. Your guide will meet you there. (See map.) Please arrive at the ranch gate 15 minutes prior to your tour.
Safety & Comfort Sturdy walking shoes, drinking water, sunscreen, and a hat will add to your comfort. It is wise to bring a coat with you; the walk can get chilly when the wind blows.
Smoking and eating are not allowed during the tour. Camcorders and cameras are permitted but camera tripods are not. (You may inquire about special tours for photographers and other artists.)
Did You Know?
With nearly 750 species of vascular plants, Joshua Tree is renowned for its plant diversity. No wonder that when the area was first proposed for preservation in the early 1930s, the name suggested was Desert Plants National Park. More...