Cottonwood Trails Closed

Trail access remains closed to Cottonwood Spring Oasis, Lost Palms Oasis, and Mastodon Peak. More »
Pinto Basin Road Under Construction; Expect 30+ Minute Travel Delays

Visitors should expect 30+ minute waits when heading north and sound bound on the Pinto Basin Road. Due to construction activity around Cottonwood Visitor Center, additional waits of 30 minutes may be in place when leaving the visitor center parking lot. More »
Deteriorating conditions of Black Rock Canyon Road

The road leading to Black Rock campground has deep potholes, is deeply rutted, and can be difficult to negotiate, especially in large vehicles. Please drive with caution.
Filming Locations
The following locations are available for commercial filming at Joshua Tree National Park. Choosing one of these areas will usually provide a smooth and speedy application process. You may contact the special park use coordinator at 760-367-5545 with any questions.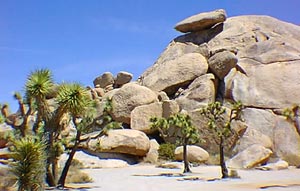 Cap Rock
Parking area provides beautiful views of rocks and Joshua trees
Popular location for still, fashion shoots
Can shoot close-in for the rocks or wide angle to include the trees
Rock climbing shots available here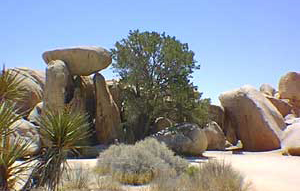 Hidden Valley Picnic Area
Perfect for rock climbing shots
Close-in view shows majestic appearance of the area
Many sites can be found in this location.
Offers boulders, trees, and panoramic views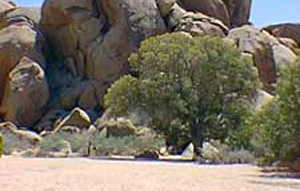 Live Oak Picnic Area
Offers a variety of backgrounds
A very private and popular location
Can shoot next to or within the boulder fields
Numerous panoramic views with rock inserts
Did You Know?

Joshua Tree is crisscrossed with hundreds of faults, and is a great place to see raw rocks and the effects of earthquakes. The famous San Andreas Fault bounds the south side of the park and can be observed from Keys View. More...