Pinto Basin Road Under Construction; Expect travel delays up to 30-minutes

The ongoing construction project to improve Pinto Basin Road will impact travel between the northern portion of the park and the Cottonwood/I-10 area. Please plan accordingly. The project is expected to be completed in August 2014. More »
Deteriorating conditions of Black Rock Canyon Road

The road leading to Black Rock campground has deep potholes, is deeply rutted, and can be difficult to negotiate, especially in large vehicles. Please drive with caution.
Access to some Cottonwood trails remains closed

Trail access remains closed to Cottonwood Spring Oasis, Lost Palms Oasis, and Mastodon Peak. More »
Fees & Reservations
Entrance Fees
7-Day Vehicle Permit
$15
Admits the passengers of a single, non-commercial vehicle.
Valid for the day of purchase and the next six days.
7-Day Single Entry Permit
$5
Admits one person, 16 years of age or older, when entering on foot, bicycle, motorcycle, or horse.
Also the per person entrance fee for individuals traveling together in a vehicle as a non-commercial, organized group.
Valid for the day of purchase and the next six days.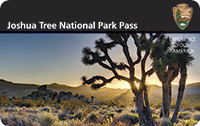 Joshua Tree National Park Pass
$30 annual pass
Available at park entrance stations and visitor centers.
Admits the pass signee and accompanying passengers entering in a single, non-commercial vehicle.
Valid for 12 months from the month of purchase.
Non-transferable
National Parks and Public Lands Pass Series
Annual Pass, including the new Free Annual Pass for Military
Senior Pass
Access Pass
Volunteer Pass
Each pass covers entrance fees at national parks and national wildlife refuges as well as standard amenity fees at national forests and grasslands, and at lands managed by the Bureau of Land Management and Bureau of Reclamation.


Did You Know?

One of the most beautiful spectacles in spring is the creamy-white blossoms of Joshua trees. These white candles can be seen from February to late March. Joshua trees do not branch until after they bloom, and they don't bloom every year. More...