You don't have to go to the desert to explore Joshua Tree National Park. Here, you can click through photo galleries, watch videos, or learn from a park ranger. Start your journey now.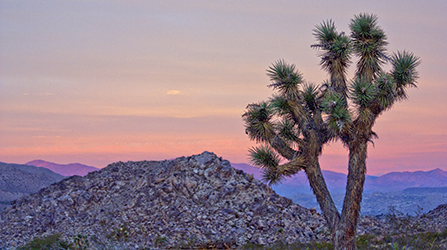 NPS Photo by Robb Hannawacker
Photo Galleries
Browse image collections showcasing different aspects of the park.
Official Flickr Photostream
View and download free public domain photos from Joshua Tree National Park. Enjoy view in the beautiful scenery or use photos for a school project, presentation, advertisement, video, or article. Please credit the photographer and the National Park Service as follows:
"NPS / photographer name".
Multimedia Presentations
Enjoy the sights and sounds of this diverse desert through short films produced in the park. These videos include a three-part Keys Ranch Tour, wildlife information, and scenic landscapes to enhance your park experience.
Nature Minute Video Series
Watch short, peaceful scenes from around the park.
Mountain Lion Stalking Bighorn Sheep
This animated GIF shows how well the predator blends into the landscape. Would you have spotted the mountain lion on the hillside?


Joshua Tree Photos on Flickr

View and download free public domain images of wildflowers, wildlife, and the stunning scenery of Joshua Tree National Park. Read More