The Joshua Tree National Park museum collections
document the cultural and natural resources of the park and the park's efforts to manage those resources. The collections also illustrate the story of the park, its environment, and the people who have inhabited it.
More...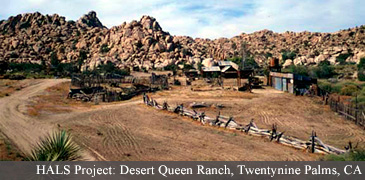 The Heritage Documentation Programs
permanent collection of architectural, engineering, and landscape documentation at the Library of Congress consists of measured and interpretive drawings, large-format black and white and color photographs, written historical and descriptive data, and original field notes. The Built in America collection includes 15 titles for Joshua Tree National Park.
More...