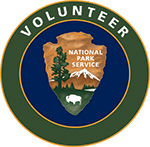 Each year, volunteers contribute more than 25,000 hours to Joshua Tree National Park. Visitors, residents, families, school groups, scouts, clubs, and businesses-people just like you-help care for the trails, campgrounds, visitor centers, libraries, climbing rocks, and oases of Joshua Tree.
Almost 500 people annually make the time to give something back to this American treasure in the desert Southwest. Most people work for half a day or more on the trails or roads. A few spend several months working in various locations throughout the park.
To find out more about volunteering at Joshua Tree, contact the volunteer coordinator at 760-367-5507 or by e-mail.