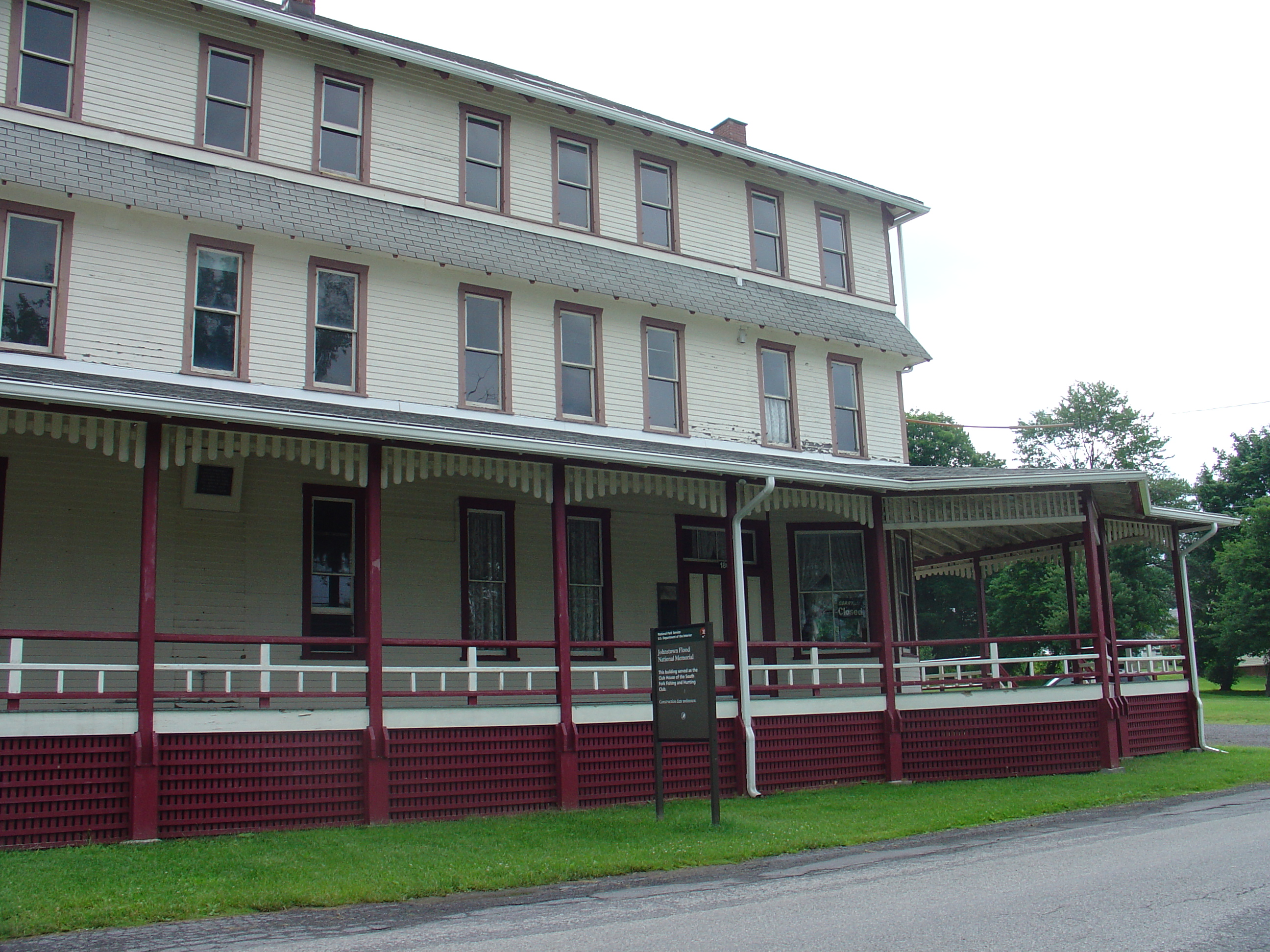 NPS
DUE TO RESTABILIZATION WORK, DURING THE 2013 SEASON, ADMISSION TO THE CLUBHOUSE WILL ONLY BE WITH A RANGER ON A "JOURNEY AROUND LAKE CONEMAUGH" VAN TOUR.
In 2006 several historic structures in the St Michael Historic District and 1889 Clubhouse were acquired by the National Park Service as part of Johnstown Flood National Memorial. They were donated by the 1889 South Fork Fishing and Hunting Club Historical Preservation Society. These structures were part of the South Fork Fishing and Hunting Club, owners of the South Fork Dam and Lake Conemaugh when the dam broke on May 31, 1889, killing 2,209 people. The most intriguing of these properties is the three story clubhouse which had forty-seven rooms and lodged most of the members of the club.
When people walk into the clubhouse they are greeted by a park volunteer, often a previous member of the Historical Preservation Society. Visitors can see parts of the original structure including wood grain floors and the original colors on the walls. Hazards such as mildew, dust, and mold may greet you as well. A 12-foot-high brick and ceramic tiled fireplace is a focal point of the small portion of the clubhouse open for viewing. Water damage has softened ceilings, cracked plaster walls in 24 guest rooms and peeled away wallpaper.
Future plans for the clubhouse include roof repairs, window replacement, a heating and cooling system, among other structural improvements. The renovations for the club house will begin in 2013. Estimates to repair the building range from $800,000 to $2.5 million. Once the National Park Service finishes installing the major heating, plumbing and electrical systems in the clubhouse, it will try to lease the clubhouse by advertising in the Federal Register and major newspapers in Pennsylvania and Washington, D.C.
The man who led a 17-year effort to preserve the clubhouse is retired U.S. Marine Walter Costlow. "I grew up in St Michael. My uncle [Ed Schwartzentruver] was the only one who saw the dam break. He had been employed by the fishing and hunting club," Mr. Costlow said. In August 1988, he called a meeting and, a year later, organized the 1889 South Fork Fishing & Hunting Club Historical Preservation Society. In 2006, Mr. Costlow's group changed its name to the Friends of the Johnstown Flood National Memorial. They continue to be involved with the clubhouse and the Johnstown Flood National Memorial. You can join them in their efforts. Please visit the Friends Group section of this website.